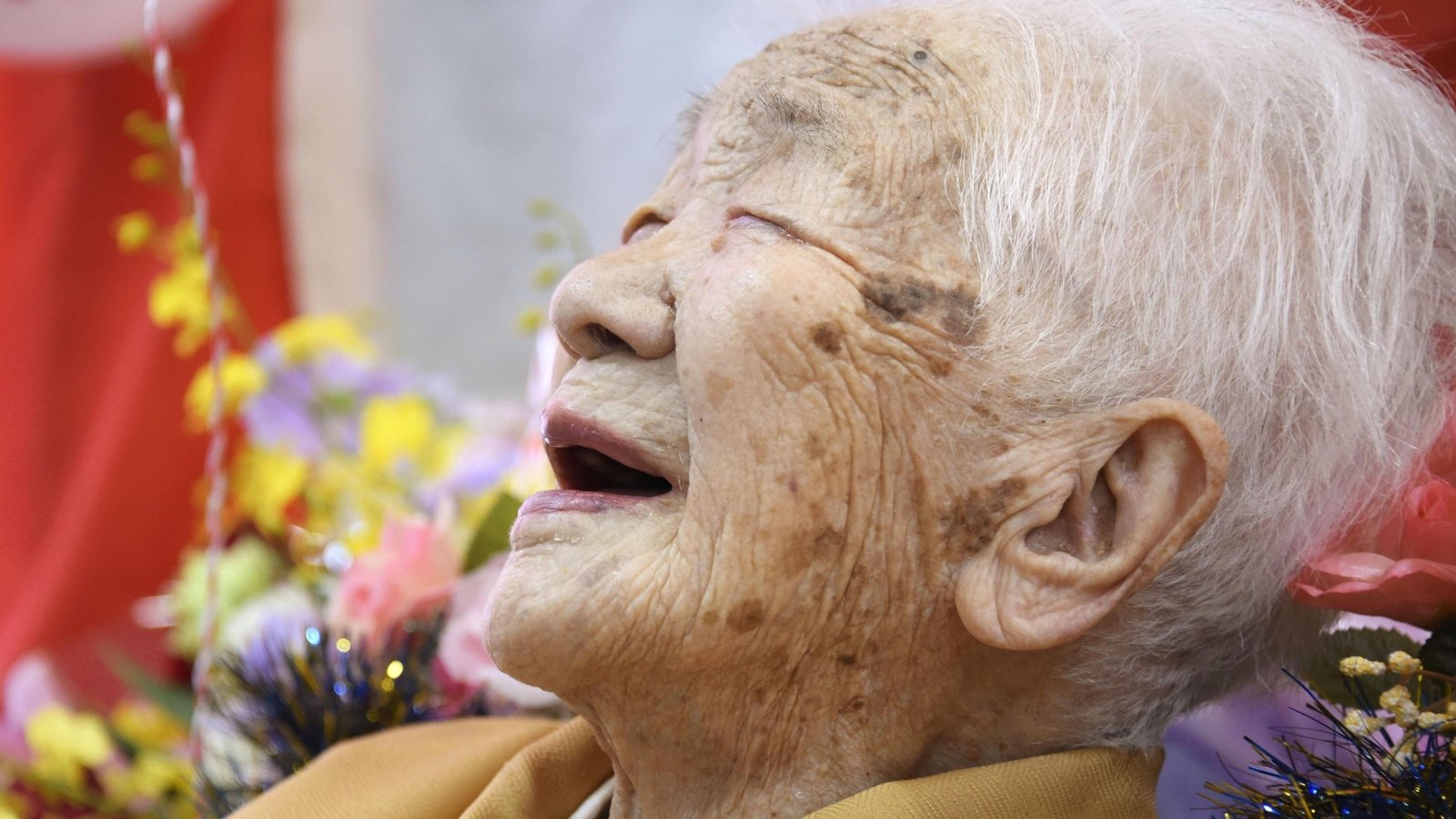 World's oldest person dies in Japan aged 119
A Japanese woman certified the world's oldest person has died aged 119, local officials said.
Kane Tanaka was born on January 2, 1903 in the southwestern Fukuoka region of Japan, the same year the Wright brothers first flew and Marie Curie became the first woman to win a Nobel Prize.
Tanaka was relatively healthy until recently and lived in a nursing home, where she enjoyed board games, solving math problems, drinking sodas and chocolate.
In his youth, Tanaka ran various businesses, including a noodle shop and a rice cake shop. She married Hideo Tanaka a century ago in 1922, giving birth to four children and adopting a fifth.
She had planned to use a wheelchair to participate in the Tokyo Olympics torch relay in 2021, but the pandemic prevented her from doing so.
When Guinness World Records recognized her as the world's oldest person in 2019, she was asked when she was the happiest in her life. His answer: "Now".
His daily routine was described at the time as including a 6 a.m. wake-up call and afternoons spent studying math and practicing calligraphy.
"One of Kane's favorite pastimes is a game of Othello and she has become an expert at the classic board game, often beating nursing home staff," Guinness said.
Local Governor Seitaro Hattori hailed Tanaka's life after he passed away on April 19.
"I was looking forward to seeing Kane-san on this year's Respect for the Aged Day (national holiday in September) and celebrating with his favorite soda and chocolate," he said in a statement. today.
"I am extremely saddened by the news."
Japan has the oldest population in the world, according to World Bank data, with around 28% aged 65 or over.
The oldest living person verified by Guinness was Frenchwoman Jeanne Louise Calment, who died aged 122 years and 164 days in 1997.
France's sister André claims the title of oldest person in the world
A French nun who recently celebrated her 118th birthday with her traditional port and chocolate cocktail is now the oldest known person in the world.
Lucile Randon, known as Sister André, was born in the south of France on February 11, 1904, when the First World War was still ten years away.
She now lives in a retirement home in Toulon, along the Mediterranean coast, starting each day with breakfast and then morning mass, although her eyes can no longer see.
"She is happy, she really likes this attention," said the house's communications director, David Tavella, adding that a short press conference would be held tomorrow morning.
"But it's just one more step, because his real goal is to overtake Jeanne Calment", the Frenchwoman who was 122 when she died in 1997.
This year, Sister André received a handwritten greeting from President Emmanuel Macron, among the many letters and boxes of chocolates sent by supporters.
"I've always been admired for my wisdom and intelligence, but now people don't care because I'm stubborn," she jokingly told AFP in an interview for her 118th lap around the sun.
"I'm thinking about getting out of this case but they won't let me," she said.
She worked as a governess in Paris – a period she once called the happiest period of her life – before taking her religious vows with the Daughters of Charity.
With the death of Kane Tanaka from Japan, "Sister André indeed becomes the eldest, by far, since the second eldest is a Polish woman who is 115 years old", declared Laurent Toussaint, computer scientist and amateur tracker for the Base of international data on longevity. as well as the French Institute for Demographic Studies (INED).
Most centenarians are found in the so-called blue zones of the world, where people live longer than average, such as Okinawa in Japan or the Italian island of Sardinia.
But France, if it is not considered a blue zone, nevertheless has 30,000 centenarians, according to INSEE, of which about forty of them are 110 years old or more.