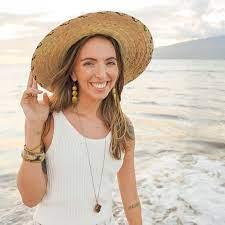 Visionary Sydney Campos joins Dr and Master Zhi Gang Sha LIVE on October 4, 2021
Visionary, business strategist and bestselling author, Sydney Campos appears LIVE on the Master Sha Tao Calligraphy Healing Show to share her wisdom and innovative ideas on the embodiment of authenticity, integrity and more.
Richmond Hill, Canada – October 2, 2021 / / –
This Monday, October 4 at 2 p.m. ET, Dr and Master Zhi Gang Sha welcomes Sydney Campos, visionary, intuitive advisor, expert in business strategy and best-selling author of "The Empath Experience: What To Do When You Feel Everything", to the show Healing Calligraphy from Master Sha Tao at Facebook.com/drandmastersha. This show takes place weekly and showcases Master Sha's transformative art, inspiring wisdom, healing practices and distance healing experiences.
Sydney is also the co-founder and chief strategy officer of ASCEND – a new dimension of social community, and host of the acclaimed Visionary Souls podcast. She is dedicated to creating heaven on earth at all times. Whether it's leading a marketing strategy for mindful businesses, hosting transformational retreats, building soul-aligned businesses, training Akashic enablers, or designing the world's next social community, Sydney lights up bridges to new dimensions. She has been featured in Forbes, MindBodyGreen, Refinery29, Bustle, PureWow, and New York Magazine.
Host Bill Gladstone (Waterside Productions) will interview Sydney on the show about her exciting endeavors and how she guides visionary leaders and organizations to embody authenticity, integrity and more. He will also bring in Master Sha who will offer a short teaching and lead viewers to experience his revolutionary remote healing service: Tao Calligraphy Light Massage. Tao calligraphy is a transformative art that radiates the frequency, energy and vibrations of the source. Master Sha will explain to some extent how this works and offer a taste of it on the show!
Thousands of people tune in to the weekly show live (at 2 p.m. on Mondays) or at their own pace to enjoy the guests, hear the wisdom and experience the healing field of Tao Calligraphy. Many around the world are experiencing great results and hundreds have sent in their success stories of this unique remote healing service. You can read more on DrSha.com and on Dr and Master Sha's YouTube channel. Here is just a recent story:
Chronic vertigo completely disappeared
Every week a miracle happens in my physical body. I had vertigo for over a year. After two sessions of Tao Calligraphy Light Massage, it's all gone! I can easily get out of bed and walk without fear of falling.
– HK
Everyone is invited to join Master Sha, Bill Gladstone and Sydney Campos on Monday, October 4, 2021, LIVE on Facebook.com/drandmastersha at 2 p.m. ET to receive inspiration, distance healing energy and more. Again.
About Dr and Master Sha
Dr and Master Zhi Gang Sha is a renowned spiritual healer, teacher, and best-selling author, PhD in Western Medicine from China, and also PhD in Traditional Chinese Medicine and Acupuncture. Creator of Soul Mind Body Medicine, Tao Healing, and Tao Calligraphy Healing Field, he has traveled the world for over 20 years, empowering people to heal themselves and others through the power of the soul. Master Sha was named Spiritual Innovator of the Year in 2020 by the International Association of Top Professionals and received wide recognition for his service to humanity, including the Martin Luther King, Jr. Memorial Commission award for the promotion of peace in the world.
Contact information:
Name: Dr and Master Sha
Email: send an email
Organization: Universal Soul Service Corp
Address: 27D – 30 Wertheim Crt. , Richmond Hill, Ontario L4B 1B9, Canada
Website: https://drsha.com/
Version number: 89047727
COMTEX_394442372 / 2773 / 2021-10-02T10: 28: 25