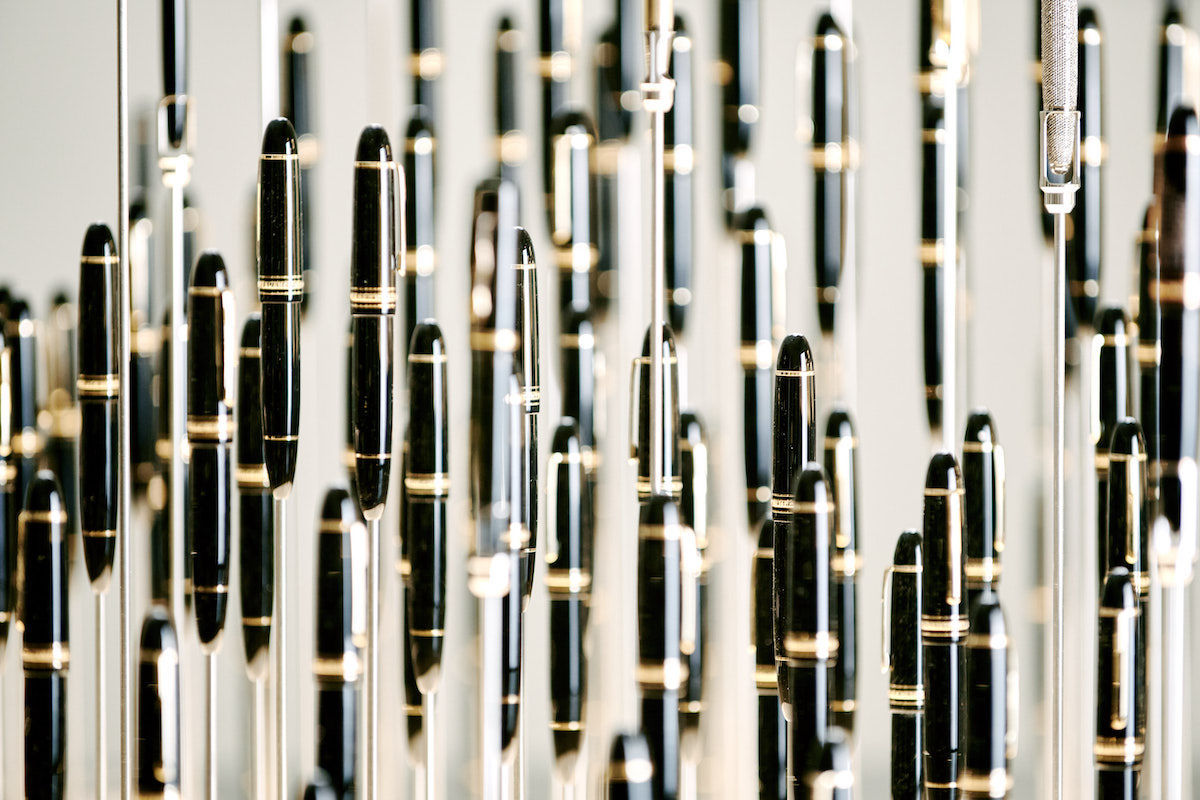 The Montblanc Haus in Hamburg celebrates the art of writing
In the new Montblanc Haus in Hamburg, a fascinating permanent exhibition showcases the craftsmanship of writing instrument manufacture and the enduring power of writing.
While calligraphy is an increasingly rare ability that has always been a source of fascination for many, especially in modern times, the writing instrument itself tends to be overlooked. There is, however, no denying the emotional connection between the pen and the owner. Some historical figures had such a love for their instruments that when Anne Frank accidentally threw her Montblanc fountain pen down the fireplace, she was so devastated that she wrote an 'ode' to it. Fortunately, the rest of his writings survived him.
According to Alexa Schilz, Montblanc's Director of Heritage, Culture and Sustainability, writing not only fosters connection, but mobilizes us as a society on a larger scale as catalysts for change. However, not all writing tools are created equal. The equivalent of approximately 1.6 billion plastic ballpoint pens would end up in the trash every year in the continental United States.
Defending the relevance of writing instruments in the digital age, Montblanc Executive Vice President of Marketing, Vincent Montalescot, says: "No one collects screenshots of emails or Whatsapp messages, but you would keep a beautifully handwritten birthday card or letter. We keep postcards because they are impermanent. You know they will last a while, but if you don't store them properly, you will lose them. The fear of this loss makes you cherish these letters more.
"It means, he continues, that there is no conflict with the digital world. Putting pen to paper brings a very unique emotion that you don't get from pixels on a screen, and that's just reality. I don't see a "challenge"; I see an opportunity.
Montblanc is one of the world's preeminent manufacturers of writing instruments, if not the most preeminent. The Meisterstück, its emblematic pen created in 1924, is about to celebrate its centenary. Just in time to mark this milestone, the new Montblanc Haus, spanning three levels totaling 3,600 m², is located right next to the company's headquarters and writing instrument manufacturing facility in his hometown of Hamburg.
The destination features a permanent exhibition that traces Montblanc's heritage from its inception to the present day and offers insight into its design and production process, as well as the world of calligraphy, handwriting and writing. creative writing. There are more than 410 writing instruments, a writing workshop, behind-the-scenes showcases of its artisans and the making of its nibs, and the various inspiring figures who have left their mark on the world through writing. .
On an exclusive trip to the Haus, we learn that Montblanc's illustrious clients include world leaders such as Barack Obama, the Dalai Lama and Pope Benedict. Certainly, they appreciate a fine writing instrument, because nothing writes like a fountain pen. Even though the technology has improved, the sophisticated new liquid ink rollerballs have not come close to the majesty and flair of such a remarkable instrument.
Pricing, which starts at $555 but can reach over $1 million, is largely dictated by the materials used for a pen's body. While many of Montblanc's writing instruments are rendered in resin or plastic, some of the special or high-art editions are decorated with precious metals, usually gold and even palladium. Some are finished with lacquered mother-of-pearl. Yet when it comes to performance, all users will pay close attention to one singular point of the utmost importance: the nib.
Most vintage fountain pens required 70 manual operations to produce. Today, even with newer techniques and machinery, Montblanc still takes 105 steps to make a handcrafted writing instrument. "The feather alone requires 35 manufacturing steps," describes Montalescot. This distinctive metal nib of the pen where the ink flows is solid gold with an iridium nib.
Although there is a mix of genders among the craftsmen in Montblanc's nib making department today, only women were once stationed there because they were believed to possess the quiet patience to execute the precise measurements in the making. of the feather. Nowadays, everyone is trained at every stage so as not to disrupt production, although only a handful remain expert at two of the most crucial stages.
Montalescot says the process continues "until you put pen to paper and listen, even feel what is happening on paper." He says, "If the experience doesn't meet their standards, the process goes back to step one. Montblanc Haus truly expresses who we are.
At Haus, we also learn that a "wet noodle" or extremely flexible nib in the hands of a skilled calligrapher can create beautiful line variations. It is reminiscent of the humble beginnings of the pen – in the form of nibs whose flexible tips have been sharpened and split to form a perfect yet primitive "wet noodle". When pen makers like Montblanc perfected the art of making these nib tips out of metal, it revolutionized a whole new class of calligraphy, notably the Spencerian script developed by American accountant Platt Rogers Spencer.
Montblanc executives also point out that the company offers courses for underprivileged students and children. According to Montalescot, "There are more than 100 million children in the world who cannot write. There are some who have already been on the internet but who have not yet had access to writing. Montblanc will not be able to solve this problem but we participate and support communities and NGOs in literacy. Montblanc House has a dedicated space and programs where we organize classes in which children can discover different aspects of writing.
Montblanc CEO Nicolas Baretzki explains the aims of the Haus: "We considered creating a special house for the art of writing; a place where people could discover or rediscover the incredible power of handwriting and the creativity, imagination and emotion it unleashes. Montblanc Haus was conceived as a journey of discovery, told through the eyes of a company that has been at the heart of writing culture for over 115 years. We hope it will become a significant landmark for Hamburg – a city so important to Montblanc's history and identity, and to the enjoyment of local communities and far-flung visitors.
What also warms our hearts is that beyond the personal experience of the marvels of writing, visitors to the Haus are invited to test Montblanc writing instruments and send postcards in the whole world.
(All images: Montblanc)