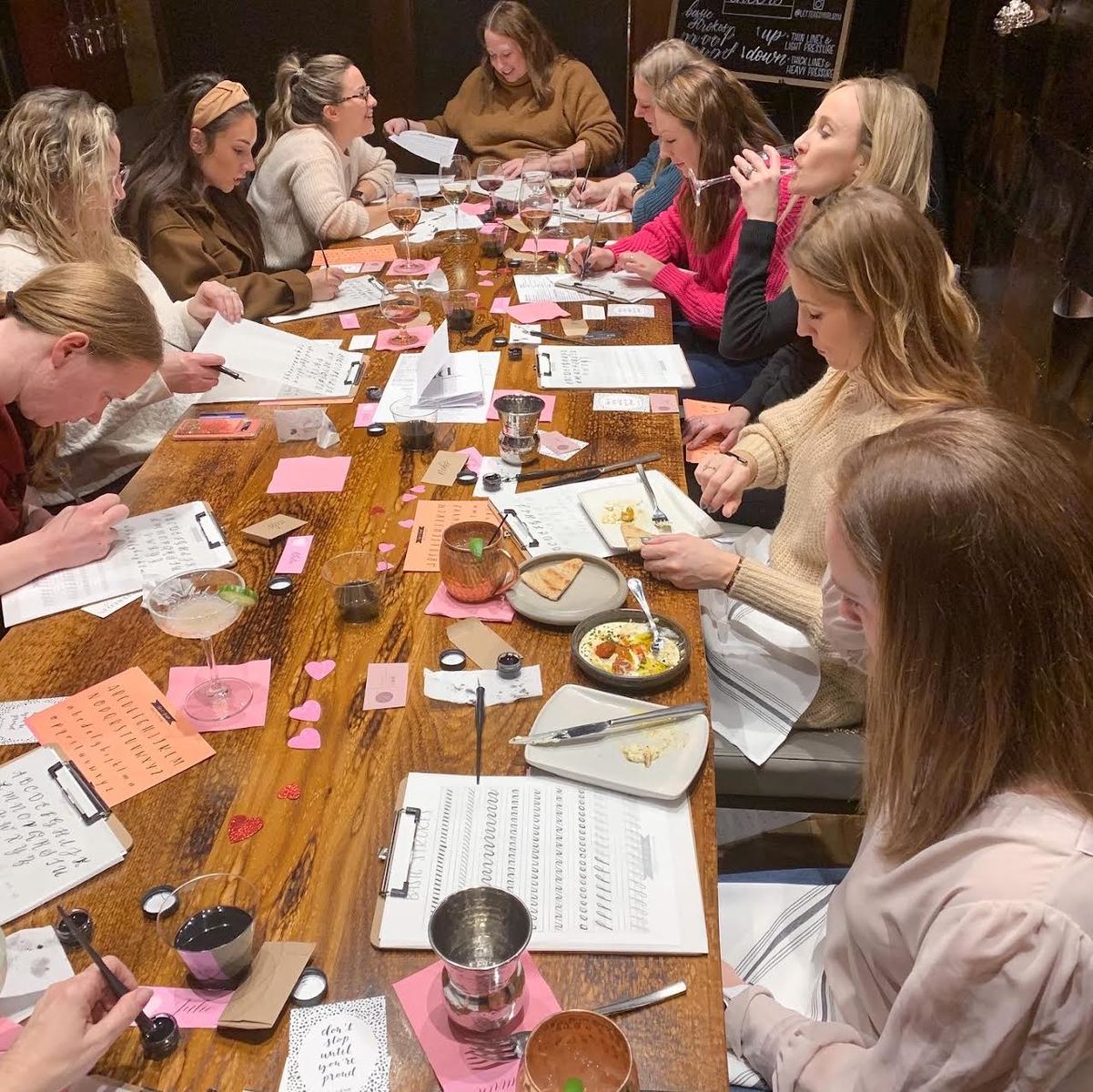 Sip & Script swirls a new skill with a fun night out
Many elementary schools no longer teach cursive writing, but that doesn't mean there aren't a lot of old, young, and middle-aged people who enjoy attractive, decorative writing.
Recently, there has been an increase in the popularity of calligraphy, a visual art practice in the form of lettering that began in ancient China. So Salena Salomone of Milwaukee started a small calligraphy business, Lettered in Blushthen teamed up with the national organization Sip & Script to teach groups of people, mostly women, how to create beautiful letters — with drinks, of course.
"Our classes are the perfect 'girls night out,' filled with sips, snacks and modern calligraphy," says Salomone.
Salomone offers classes in the Waukesha and Milwaukee areas at different locations.
"I love connecting with local small businesses to run classes, which allows me to showcase their place and bring in new customers," she says.
Classes are 90 minutes long and include supplies and instruction for $65. During the class, guests learn the "pointed pen" technique using ink and calligraphy nibs.
"I provide all the materials and paper guide sheets to walk through everything step by step," says Salomone. "They're totally beginner-friendly and perfect for DIY brides or crafty friends."
Salomone guarantees that careful handwriting is not necessary.
"Calligraphy is different from traditional cursive writing, so it won't necessarily improve your calligraphy, but it will teach you a skill you can apply to tons of projects," she says. "Our goal is to have fun and learn a new skill at the same time."
Salomone got into calligraphy six years ago because she wanted a creative outlet and a new hobby.
"I discovered bullet journaling and quickly fell down a rabbit hole of all things lettering and calligraphy with brush pens and markers for my journal," says Salomone.
Salomone started with simple calligraphy projects, like signs and place cards for family weddings. She loved the work so much that in 2020 she founded Lettered in Blush.
In 2021, Julie Mancini and Meg Chaloner, owners of Sip & Script, invited Salomone to join their team of 60 women to teach calligraphy in the Milwaukee area.
Boston-based Sip & Script started six years ago and has expanded across the United States.
"Sip & Script classes teach the basics, which means you can apply your new skills to your own writing," she says. "These are laid-back classes where guests can learn to write beautiful letters while sipping on their favorite cocktails."
To find out about upcoming events and possibly register, go to here.