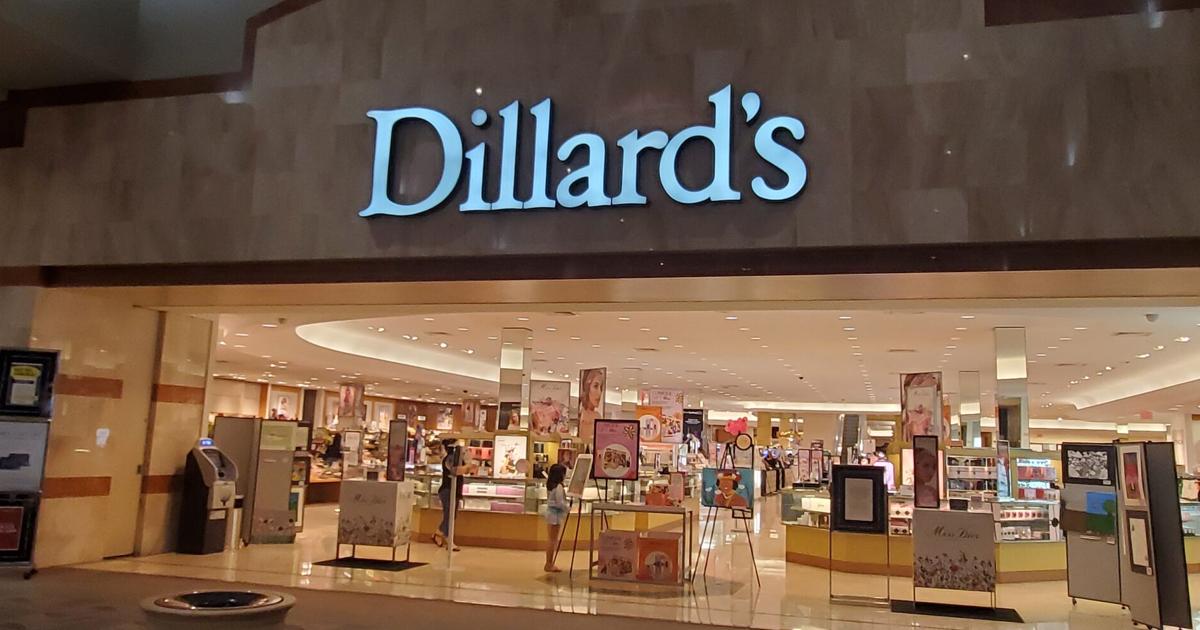 SHS Advanced Art Students Exhibit Art at Dillard's | To open
Students from the Southwest Academy for the Visual and Performing Arts (SAVAPA) recently demonstrated a creative use of cosmetics at an art exhibition held at the Imperial Valley Mall.
SAVAPA art students worked for three to four weeks to create original works of art using old and expired cosmetics. Artists were allowed to choose their own themes, and the results were displayed at Dillard's department store from March 4-13.
Jacqueline Pleitez, a professor of fine arts at SHS, said Dillard's store manager Jose Nichols contacted her to let him know he wanted to display student artwork in the store as a attraction for the public. Initially, the exhibition was originally planned before the pandemic, but the original plans were never completed.
"This year I contacted Jose and took over the plans for the show," Pleitez said. "We were both excited because after tough times, we were going to make it now."
Pleitez said the general inspiration for the art exhibit was to recycle materials — specifically to use outdated makeup to paint, such as artist Molly Fredenberg, a freelance artist from Brooklyn who has created works of art translated from skin to paper.
"I guess I wanted this collection of artwork to fit into the store, and then I thought of asking Jose if by any chance they had leftover makeup and mannequins that they weren't using. more," Pleitez said.
As the students experimented with all the different materials, like eyeshadow, eyeliner, and calligraphy pens, they also had to find ways to find beauty in the mistakes they made along the way and integrate them into their works of art.
"My pen, a lot of times, was overflowing so all the way through my artwork, I had spilled ink," said 17-year-old Jenessis Madrigal. "I had to incorporate the spilled ink into the artwork to make it look professional."
Similarly, senior Dheydra Gonzalez, 17, said she struggled with calligraphy pens and had to cover unwanted ink spills with shading.
"I had to have a steady hand, so I had to take a lot longer," Gonzalez said, "I know how to work with ink, but I've never used it on such a large scale before, so it took quite a bit of time to get it the way i wanted.
As for the themes, Pleitez said she gave the students the opportunity to decide what they wanted to express in their art projects.
"I love giving students freedom with what they create because I feel they appreciate it more when I give them that choice rather than giving them a specific subject, and believe me, they amaze me," said said Pleitez.
In Madrigal's case, she said she found herself drawn to the TV series character Anne Shirley from the Netflix series "Anne with an E" as the theme for her artwork. She said she could relate to the character's attitude and her eagerness to speak her mind.
"I can relate to her on a personal level because she's always rambling and always using those swear words and people sometimes think of her as weird or boring, but she's just an orphan. which is misunderstood," Madrigal said.
She said she tries to represent herself and how she feels through the different elements of her artwork.
"The colorful background made me try to come out of my shell because I was always seen as 'the good girl,' so through my artwork I was like, 'Hey, I'm not perfect "and I want to do other things," Madrigal said.
Many students mentioned that their parents were in love with the artwork and proud that their artwork was on display for people to see.
"My mother and my friends saw it. They said they liked the details, the animals and my art style," Gonzalez said. "A friend of mine really liked the way I drew an animal sitting on a mushroom."
"This was our first time working together and showing our work at Dillard, and based on a conversation I had with store manager Jose, we plan to do this every year as this first show has been a great success," Pleitez said.
Pleitez is planning other art exhibits this year, including a surprise collection for Southwest High School's Jimmie Cannon Theater.