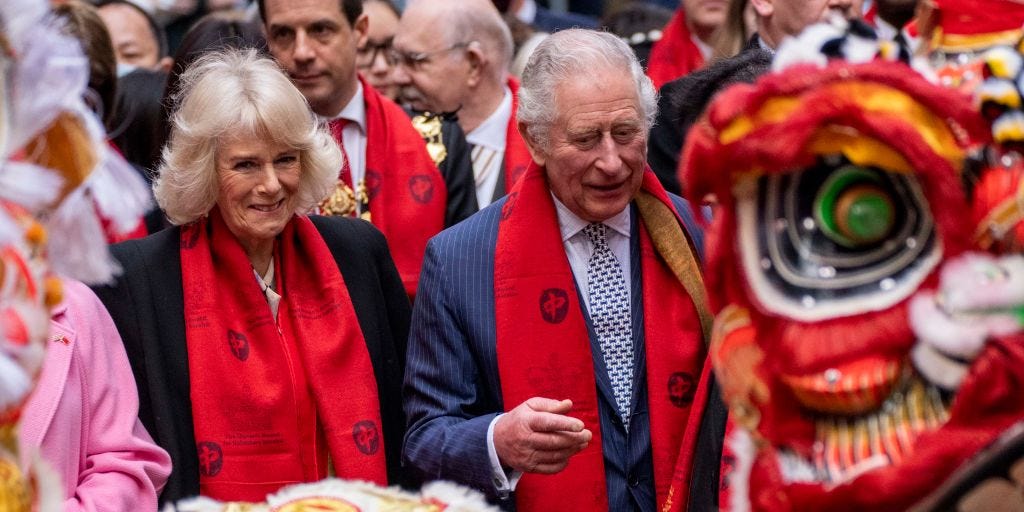 See Prince Charles and Camilla celebrating Lunar New Year 2022 in photos
Marc CuthbertGetty Images
The Year of the Tiger has arrived, and Prince Charles and Camilla, Duchess of Cornwall, are ready to embrace this year as a "year of action". On Tuesday, they traveled to Chinatown in central London to take part in Lunar New Year celebrations and support the local community in their work to tackle anti-Asian hate crimes.
When they arrived in Chinatown, Charles and Camilla received red scarves, an auspicious color for the holidays, synonymous with good luck and prosperity. (Camilla had previously dressed in red, wearing a dress by British designer Fiona Clare.) Before the parade began, Prince Charles and Camilla were asked to wake the lions ahead of the traditional lion dance. Given brushes, they both drew a line on the spine of the lion puppets and painted their eyes and tongue.
From there, they went to see the work of calligraphers Dr. Chan Cheng and Dr. Liangwei Zhu, and both tried to write their own calligraphy, design the symbol of harmony.
Afterwards, Prince Charles joined a roundtable with members of the community to discuss anti-Asian hate crimes and heard from police officer Caleb Lu, a victim of a hate crime. Camila spent time talking with staff and volunteers at the Chinese Information and Advice Center (CIAC), an organization that provides free legal advice to members of the British Chinese community on issues of immigration, asylum and domestic violence, helping those who are often "marginalised by language and cultural barriers."
Camila praised the work of the center saying, "What would we do without our volunteers? The country would collapse. You are doing a brilliant job. Recently the center celebrated its 40th anniversary and in 2018 CIAC received the Queen's Award for Voluntary Service, the highest honor given to a group of volunteers in the UK.
This content is imported from Twitter. You may be able to find the same content in another format, or you may be able to find more information, on their website.
CIAC President Edmond Yeo said he was "so proud" of his community for hosting the Prince and Duchess for the Lunar New Year. "We have real love for the royal family," Yeo said, according to the Telegraph. "The institution of family is very important in Chinese culture, so the royal family is very important."
Lunar New Year celebrations began in London's Chinatown over 20 years ago and have now grown into one of the biggest celebrations of the holiday outside of Asia. This isn't the first time Charles and Camilla have taken part in the festivities either; in 2015, they visited Chinatown for the Lunar New Year.
Ahead of the Lunar New Year, Prince Charles joined Weibo, China's biggest social media platform, and posted a celebratory message calling on everyone to work for a better future.
"My wife and I wish a happy, healthy and prosperous New Year to everyone in China – and to everyone celebrating Lunar New Year around the world," he wrote. "As we enter the Year of the Tiger, known for its courageous actions and its challenges and adventures, I hope that the whole world will make this year a year of action. Together, let us create a better future for all our children by changing the way we live and work to be in harmony with Nature and the planet."
He ended his message with a wish for happiness: "The blessing of the tiger brings happiness to all families in the year of the tiger. I wish you peace and happiness.
---
This content is created and maintained by a third party, and uploaded to this page to help users provide their email addresses. You may be able to find more information about this and similar content on piano.io