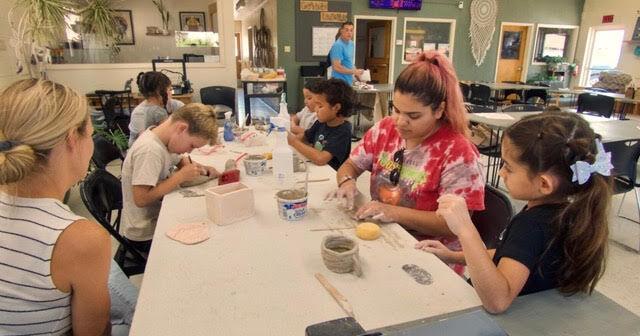 One can only imagine community arts: Imagine Arts envisions that | Pictures
Imagine Community Arts Center provides a calm and welcoming environment where anyone, child or adult, can have fun creating their own masterpiece.
They can learn or help others learn, whether it's working with clay to make a figurine or a mug, calligraphy, drawing, painting, making a sculpture, printing a lithograph , learn how to use a camera, etc.
On Thursday, Paul Zito, who teaches ceramics, helped children learn how to make coiled pots, while others worked on animal figures or made other fun crafts.
Once you learn to work with clay and keep it moist while shaping it, you can do just about anything, Zito said.
"I'm making a cardinal for my grandmother," 8-year-old Arye Missakian said as he carefully worked the clay bird's head and torso, looking at a photo.
"He's actually really good," Zito said. "He's done a horse and a penguin before."
"It's my mother's favorite bird," said Dayla Missakian, Arye's mother.
"We've been coming to Imagine for about five weeks. Arye will be in Grade 3 in August. Paul is so patient with these kids. I'm always impressed with what the kids do here every week. Arye loves coming here."
Imagine Art and Learning Center is located at 372 N. Third St. Porterville.
After class, Zito carefully stored all the children's ceramics in a cupboard, making sure the unfinished pieces didn't dry out. He said they would bake all the pots in the oven and then the children would paint them.
Smiling proudly, 6-year-old Jonathan Correa held up a small heart-shaped plaque he had made out of clay and said, "I made a cup, then a lizard, then a heart."
Imagine Community Arts Center has been around for 12 years, said owner and manager Rebecca Reyes. Originally, the art studio was located next to the Porterville Chamber of Commerce and various other studios on Main Street.
They have worked with several school districts in Tulare County to bring quality art to campuses, introducing artistic disciplines such as printmaking using a mono printing machine, lithographs, acrylic painting , sculpture, all kinds of collages and photography.
"We take the elements of art and teach them through the lens of STEAM; science, technology, engineering, art and math."
"It's really cool," Reyes said.
"Over the past 12 months, we have been able to serve 280 students per week.
"It's been my dream since I was little. To make art and play teacher.
And it's great to be able to integrate those things, and I found a way to do the two together.
"And the best part of living my passion is sharing it with so many people in the community.
"We provide opportunities for students to find out if they are artists by learning skills that will support them and give them confidence throughout their lives.
"Imagine is valuable in the Valley because there are no other public work studios like us where children and adults can learn and develop their artistic skills.
"And what sets us apart is that we're very accessible, it's $5 a day to use the studio and we're open 10 hours a day.
This $5 gives you access to all the materials: watercolors, gouache, colored pencils, colored pens, building materials, codeable robots, 3D printers and even sewing machines, the ceramics workshop, etc.
Besides the art studio, Reyes and the staff have built a large vegetable garden at the back of the large studio, which she uses to teach the children.
"The garden is a great learning tool, but it's also a peaceful place to relax, and it's often a source of inspiration for art," Reyes said.
"It was a learning curve for me, learning how to run a non-profit business. I knew Porterville families needed a low-cost place to make art, and parents needed need an outlet for themselves and their children.
"Imagine's adult workshops, ceramics and painting evening, and the events we organize here are well received in the community.
And 50 percent of our ceramic class enrollees come from out of town, as far away as Madera, Fresno, Bakersfield and Visalia.
"The other benefit of being a non-profit organization is being able to receive donations from the community. This has allowed us to build the partnerships that we have. With Sierra View, we held an arts and crafts workshop for the benefit of nurses, doctors and staff. »
Imagine staff also worked with the Walmart fulfillment center and did a large chalk mural on the ¼ mile sidewalk for their Night Run fundraiser, and recently worked with McDermott X in Lindsay and created a full-scale STEAM lab that included a professional chess teacher, as well as art lessons and a 3D printer.
There are 8 Heartland Home School sponsor families to attend Imagine.
And IAC just had an exhibit at the Porterville Historical Museum that recently ended.
"The great thing is when you build a great place to work, it's a joy for the community to come and work in a place that's welcoming and fun. Everyone loves being here," Reyes said. "No one calls in sick. It's as welcoming to customers as it is to staff."
Currently, the art center has 12 employees, but when the program really resumes during the school year, there will be 18.
They have worked with the Porterville Garden Club and have a full vegetable garden. A community member paid for and installed the water system.
The tomato and watermelon plants have been donated and the whole garden is thriving. There are 4 types of tomatoes, cucumbers, melons, eggplant, squash and some herbs like chives, basil and cilantro.
Also Shasta daisies and Black Eyed Susan flowers.
Imagine Art Center will have a kiosk and free craft area for kids at the Camp Nelson Mountain Festival on Saturday and Sunday, August 6 and 7.
For more information www.imagine artscenter.org call 559-615-1373 or email [email protected]
or visit www.imaginelc.org