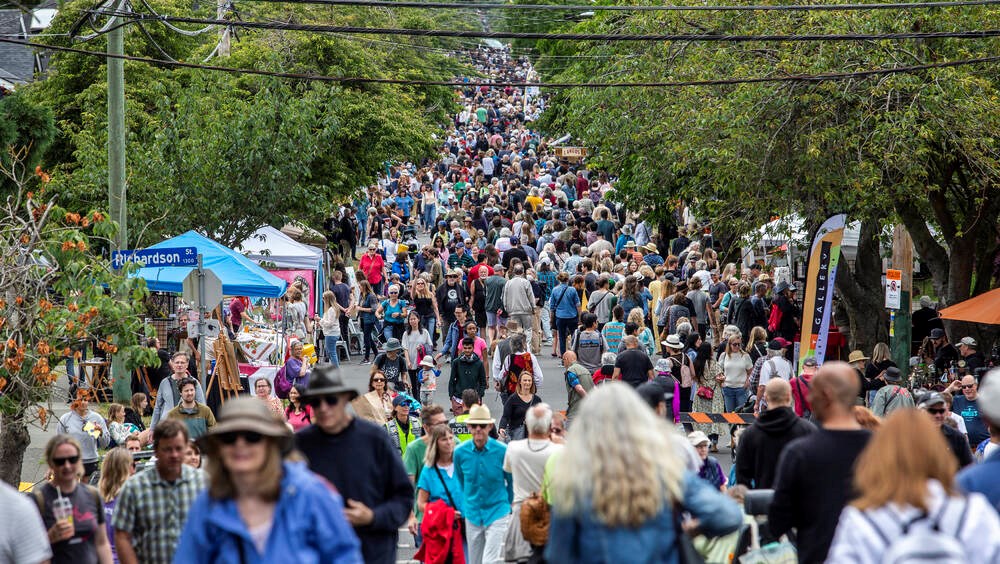 Moss Street Paint-In attracts thousands of people to immerse themselves in the art
Moss Street filled with artists and their art for the 33rd year of the event.
To the delight of thousands, Victoria's biggest arts festival returned to Moss Street on Saturday, with work from more than 160 regional artists lining Moss from Fort Street to Dallas Road.
Fairfield Street hosted the 33rd TD Art Gallery Paint-In, a festival with dozens of stalls for artists to sell their wares and give demonstrations, inviting attendees into the worlds of oil painting, watercolour, sculpture, performance art and more.
And if inspiration struck, participants could create their own art at eight Imagination stations along the route.
At one such station was nine-year-old Cora Stober, who was engrossed in the drawing of purple stars.
"I usually do crafts," she says. "Like robots."
A few stalls away, Cora's mother, Heather, was selling her art – bright, geometric paintings with images of wild animals. Heather said the art festival shows children – and adults – how many different ways there are to be an artist.
"The art can look very serious in a gallery, but here there are so many practical things. They can interact with the art, they can see so many different things. I think it's really cool to see for kids.
From felted wild birds and driftwood people to interactive tin can musicals, Chinese calligraphy and intricately painted hubcaps, the Paint-In had something for everyone.
Watercolor artist Joanne Thomson has prepared a pot of magenta-hued beach peas to draw throughout the day. "You want to demonstrate and show what you're doing," she said. "That's the point of it, to show that there are artists in the community, and that we're all there. We don't need to bring artists from other places.
Brandy Lancaster, an aboriginal beader of Lekwungen, Lyackson, Squamish and Kwakwaka'wakw ancestry, was participating in Paint-In for the first time.
"It's really exciting, it's nice to see all the different artists," she said. "I really believe in local support and supporting the little ones."
Lancaster's art, primarily jewelry, is contemporary, but she also uses traditional materials like cedar and abalone shells.
"We are strongly anchored on the coast," she said. "Beadwork is used as a conduit to reconnect with our culture that they tried to strip us of. It obviously didn't work out because we're still here.