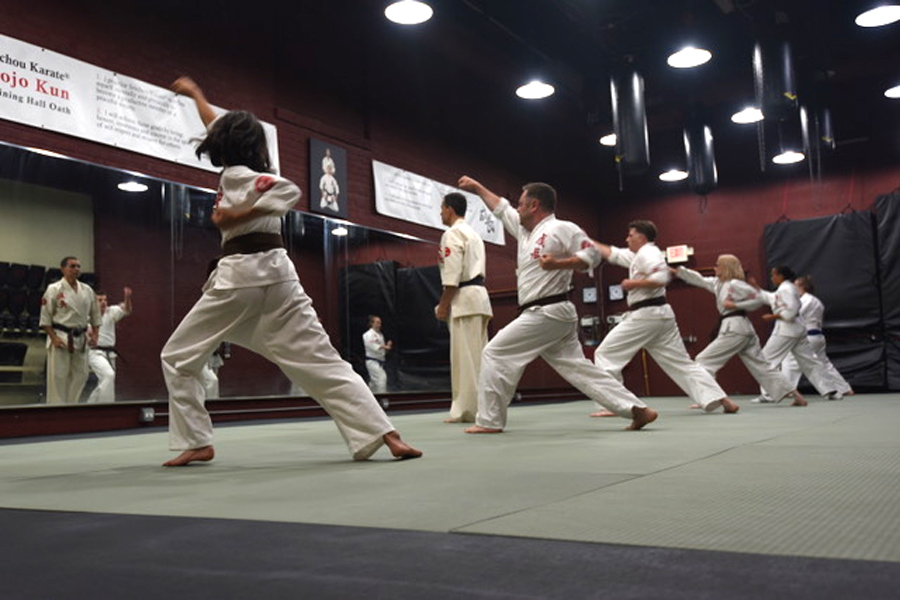 Karate and calligraphy meet in this neighborhood dojo
By Margaret Townsend
Alexandria, VA – Seichou Karate at 807 North Royal Street has been a part of Old Town North since 2004. But owner Richard Romero started studying karate as a child growing up in New York City.
Fast forward a decade, and he managed to continue his karate education through his college education. After earning a Bachelor of Arts degree from Columbia University in 1984, followed by a Juris Doctorate from Cardozo Law School in 1987, Romero was ready for his next step.
In 1988-1989, he completed the Full Year Asian Languages ​​Concentration Program (FALCON) at Cornell University, which propelled him into his karate career. "It was fabulous," Romero says of the FALCON program. "It was there that I learned my basics of Japanese and prepared me to improve my Japanese considerably when I moved to Japan in 1989."
Romero lived in Japan for five years, where he taught English and deepened his practice of karate.
When Romero returned to the United States, he used what he had learned as a teacher and student to shape the philosophy of his northern old town dojo, Seichou Karate. Romero opened his dojo in 2004, wanting to provide a quiet space dedicated to teaching karate and traditional Japanese studies like calligraphy. He has since built up a loyal student base.
This loyalty was true in 2020 when Seichou Karaté had to close his doors and open his computer screen. Romero applied his well-rounded teaching style in the era of the pandemic. For nine months, the dojo offered online karate and calligraphy classes.
Today, the dojo has just been renovated and the doors are wide open to welcome all students, old and new. With COVID-19 protocols now second nature in place, Seichou Karate has kept its students safe, maintaining health and safety standards inside the dojo while offering its popular online option.
Whether online or in person, Seichou Karate enables students to enjoy the well-being benefits of maintaining regular physical practice through karate and regular mental practice through calligraphy. It's the best of both worlds in one.
ICYMI: Metropolitan School of the Arts of Alexandria

Publication displays:
45