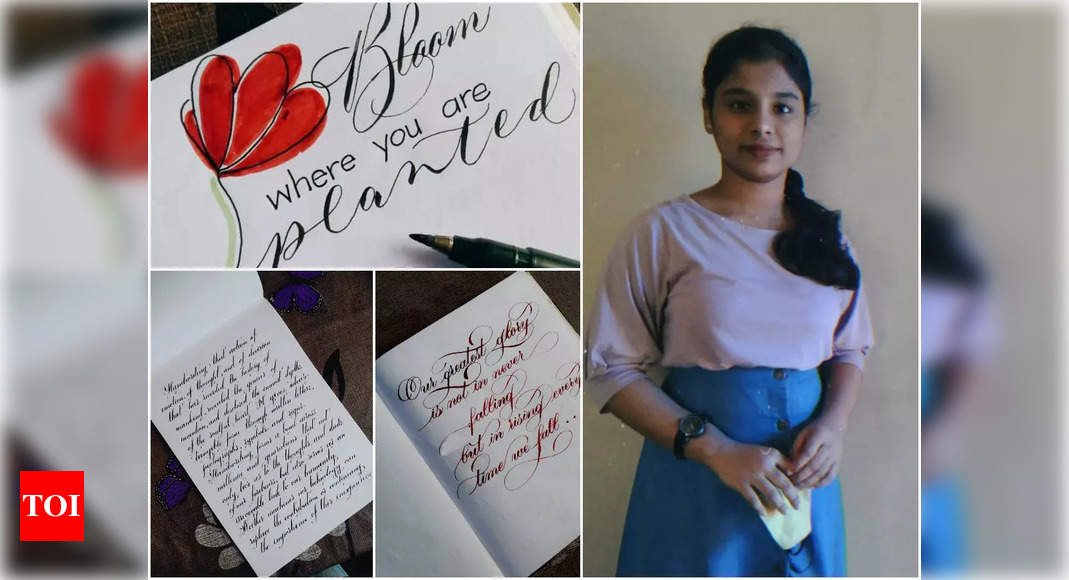 Kannur's Daughter Wins Global Writing Competition | Kochi News
Every Indian student has probably heard the advice "teachers will give extra marks if you write properly". Top-in-class Ann Mariya Biju says she was presented as an example of this. Nirmala Upper Secondary School Plus One student, Chemperi, Kannur recently won first prize in the "Artistic Writing" category at the Global Handwriting Competition.
"Yes, teachers say my books and answer sheets are so neat they want to give me good grades," says Ann, who aspires to be a doctor. The contest being held in New York receives entries from all over the world, and although Indians feature prominently among the winners, there has been only one winner from Kerala before, says Ann, who won in the category. teenagers.
Calligraphy is something Ann got into during the lockdown. "Like many others during confinement, I wanted to try my hand at something different and new, and I really got into calligraphy. I even started a YouTube channel showing how to do it, "she says.
Ann is self-taught and has honed her skills through continuous practice. "All my old notebooks were totally worn out because I trained every day. And because I need to focus on my studies, I force myself to put it away, otherwise I would do it all day. But once I become a doctor, it's a skill that I would like to continue to use, "explains the youngster.
While Ann does calligraphy in English and Malayalam, she finds the former provides a better chance to experiment with styles. "Good calligraphy comes from the use of good instruments, practice and effort. And of course, because we all have a different handwriting, each calligrapher will have developed his or her distinctive style, "she explains.
Of course, Ann is very popular at school at the start of the school year, when friends want their names to be more artistically printed on their books. "I love doing it and my classmates are very supportive and support my skills," she says.