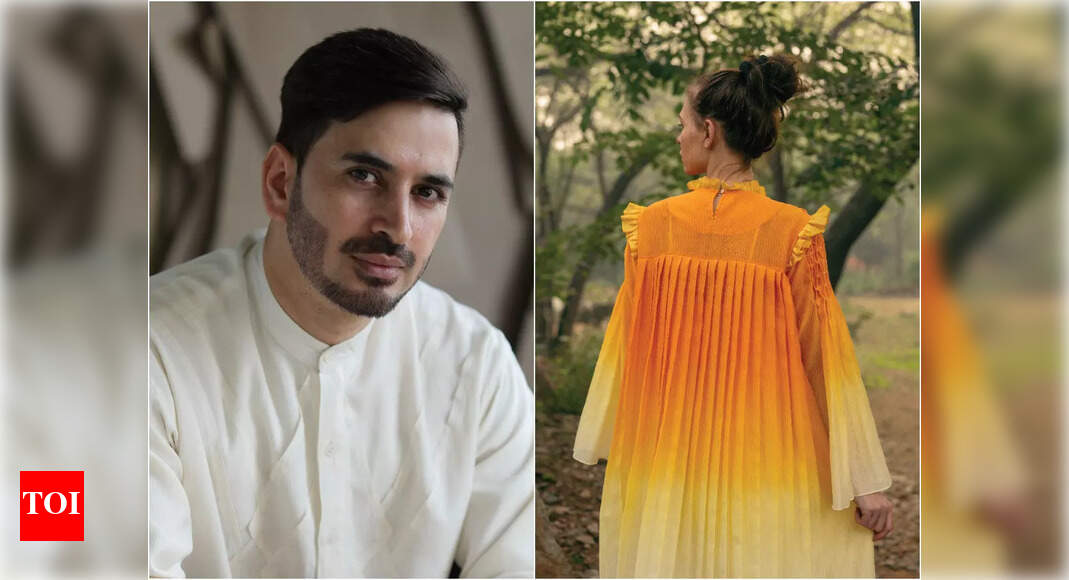 Instead, Wajahat talks about the influence of Kashmir in his designs
Your home land always serves as a force to inspire your work and when someone comes from a place as beautiful as Kashmir, creative output is bound to be appealing. Designer Wajahat Rather comes from the valley and runs a beautiful brand called Raffughar in New Delhi. Her designs take a lot of inspiration from the arts and crafts of Kashmir and for her new Rangrez collection, the inspiration comes from the khatamband wood craftsmanship of the valley. In a one-on-one, designer Wajahat Rather talks about the aesthetics of design and what drives it forward. Here is an exerpt.
Your new collection is inspired by the architecture of Kashmir. Your native has always been part of your collection. Do you believe that there are so many other forms of Kashmir art and design that the world has yet to see?

WR: I draw inspiration from nature, culture and heritage and use them as contemporary design elements. My new Rangrez collection is also inspired by khatamband wood craftsmanship from Kashmir. The rich set of traditional Kashmir silhouettes and my own interest in exploring the different dimensions of patterns and calligraphy of the Himalayan region are evident in the collections.

The valley is not only famous for its wonderful climate and natural beauty, but also for its exquisite textile crafts. If we look at history, Kashmir was located on one of the many caravan routes of ancient times, routes that connected and created the Silk Road. The intensive overland trade routes between China and Central Asia had people of various groups, on both sides, traveling great distances and engaging in trade. This ensured a cultural exchange in terms of language, crafts and other aspects of life. I believe there is a lot in Kashmir to draw inspiration from the landscape, culture, craft practices and rituals to name a few.

How do you think architecture and fashion go together?
WR: It is widely believed that the relationship between fashion and architecture dates back to early humans who used the same material for their clothing and for shelter. This relationship has led to closer ties between the two disciplines – both fields have commonalities in their design process. Architects, as well as fashion designers, aim to create perfect, comfortable and beautiful shapes for the human body in the same way. It is almost impossible to practice architecture separately from fashion since both arts are sensitive to the culture and environment of individuals and societies. In a conceptual sense, architecture and fashion deal with psychological perceptions and spatial structures. From a visual point of view, the two arts reflect the taste of the individuals who occupy these spaces, and from the point of view of materiality, architecture and fashion have many things in common, such as the use of fabrics and materials, the use of technology.
Our latest collection assimilates this thought by stitching the fragments together into textiles and closely observing the literal, symbolic and poetic aspects of the craft. We've used techniques that reflect them thoughtfully, like hand pleating and ombre dyeing.
Tell us about one of your collections that is really close to your heart and why?
WR: It is difficult to choose a single collection because all the pieces I create are close to my heart. However, my latest collection is unique in a way because the painter in me has wanted to explore colors for a long time, and in Rangrez I was able to do so.
Do you believe in trends? How do you maintain your designs with the changing times?
WR: At Rafughar, we work on classic silhouettes. Most of our work is inspired by traditional and museum pieces. We want to focus on classic, timeless, timeless silhouettes and aesthetics. People are now more aware of the planet and their impact on it, and as a result we have seen a real increase in our used and conscious categories. Seasonless fashion has become very popular; they are beautiful, timeless, well-made pieces that won't date and can be worn from season to season.

The last two years have been tough for businesses, especially fashion ones. How do you plan to evolve in the days to come in your company?
WR: The pandemic has become a big challenge for the fashion industry. It was undoubtedly the worst year for a long time for the fashion and luxury industry. The situation is probably closer to what people must have seen during the Great Depression. Obviously, retailers were closed, which simply hampered sales. In contrast, sales of casual and leisure wear have seen an acceleration from the pandemic. While overall industry sales are down, we have also seen an increase and a sea change in digital platforms.
Difficult situations also bring opportunities. This is the time when people from all industries have become creative in their respective businesses and every industry is adapting to the "new normal" and innovating.
We had the opportunity to present the Lakme Gen Next last year, which opened many doors for us. Rafughar did well creatively and was recognized for it. It instills that confidence and faith that global markets are looking at this industry quite positively and seeing huge room for growth in the next few years. India is a dream market for many product marketers. Domestic consumption has been quite high in recent years due to large population, increasing urbanization, increasing disposable income, organized retail sector, etc. The pandemic is a temporary setback and with our domestic fundamentals strong, we would overcome this sooner and make way for sustainable growth in the near future.
Want to try your hand at sewing in the next few days?


WR: As the saying goes "never say never". At this time we have no plans to move into couture, but I have explored the idea of ​​creating a sustainable couture collection in the future. Once I figure out how to make sewing durable, we can try our hand at that.