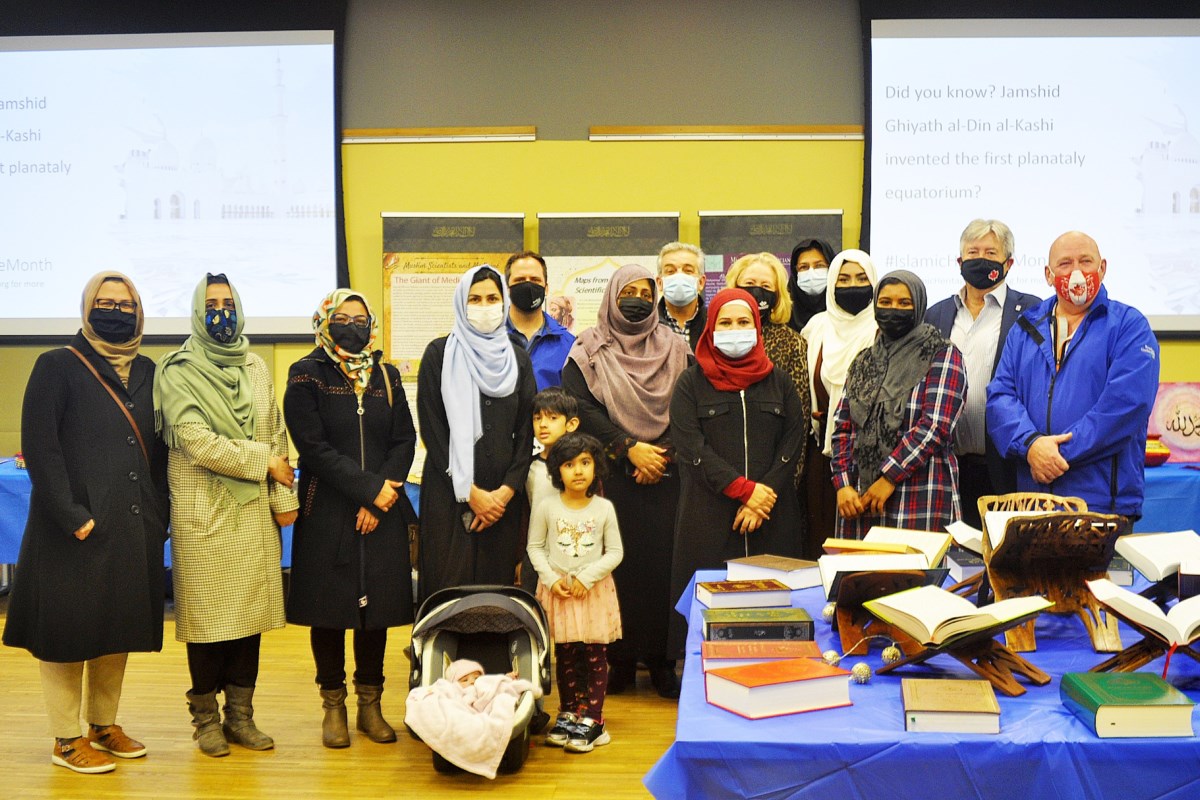 Innisfil and Bradford Council visit Islamic exhibit at BWG library
The Ahmadiyya Muslim Women's Association hosted the exhibit at the library last week as it strives to continue to increase its community service efforts and continue to spread the message of love and peace.
The Ahmadiyya Muslim Women's Association (AMWA) invited guests to the BWG library last week to present the Islamic exhibit on the occasion of Islamic Heritage Month.
Islam is one of the second largest religions in the world practiced by Muslims. The word "Islam" means "obedience and peace" in Arabic and was founded by the Prophet Muhammad over 1,400 years ago in Arabia.
AMWA members guided visitors around the exhibit and explained all of the various artifacts, literature, clothing and accessories which included jewelry and scarves, as well as works of art and inventions made by many Canadian Muslims in history.
The general theme of the exhibition was: Love for all, hate for no one
"It was truly a pleasure to organize an event that offers Canadians a unique opportunity to connect, respect and reflect with their Muslim counterparts, and also to learn about their important contributions to the advancement of the human world," thanked Riffat Jahan, AMWA member and one of the many organizers of the event.
Jahan was born Pakistani but is "Canadian at heart".
The event saw a constant stream of guests including Innisfil Councilors Donna Orsatti and Carolyn Payne, Deputy Mayor James Leduc, Bradford Councilors Mark Contois, Ron Orr and Peter Ferragine, MP Scot Davidson, and Jennifer Harrison (President of the BWG Library), as well as members of the Simcoe Police Department and BWG Fire Chief Olaf Lamerz.
The guests were able to try their hand at calligraphy, a fundamental element of Islamic art and significant in the book of the Koran; the holy book often followed by Muslims.
Visitors also received a free gift bag as a thank you for supporting the event, which included Islamic books, pens, bookmarks, mugs and a few other treasures.
AMWA celebrated the entire month with a series of community-wide donations, including 1,000 bookmarks to Chris Hadfield Public School in Bradford, and supplies of paper towels, soap containers, tissue box packs and 500 bookmarks were given to Alliston Boyne River Public School, and Tottenham Public School.
"We have had very positive feedback from the manager and the staff," says Madiha Majoka, AMWA Press and Media Secretary in Bradford. "We also had the opportunity to display Islamic Heritage Month literature and crafts in schools with great positivity and commentary."
The Ahmadiyya Muslim Women's Association strives to continue to improve and increase its community service efforts and to continue to spread the message of love and peace.
"We have received incredible responses from community members who appreciate our humble efforts to do our part in the Bradford community," shares Majoka. "But this is not enough, we must continue to increase our efforts and reach more and more people and spread the message of peace."
To learn more about the Ahmadiyya Muslim Women's Association, visit: Ahmadiyya.ca or alislam.org
Editor's Note: Some of the photos originally posted have been removed at the request of AMWA.