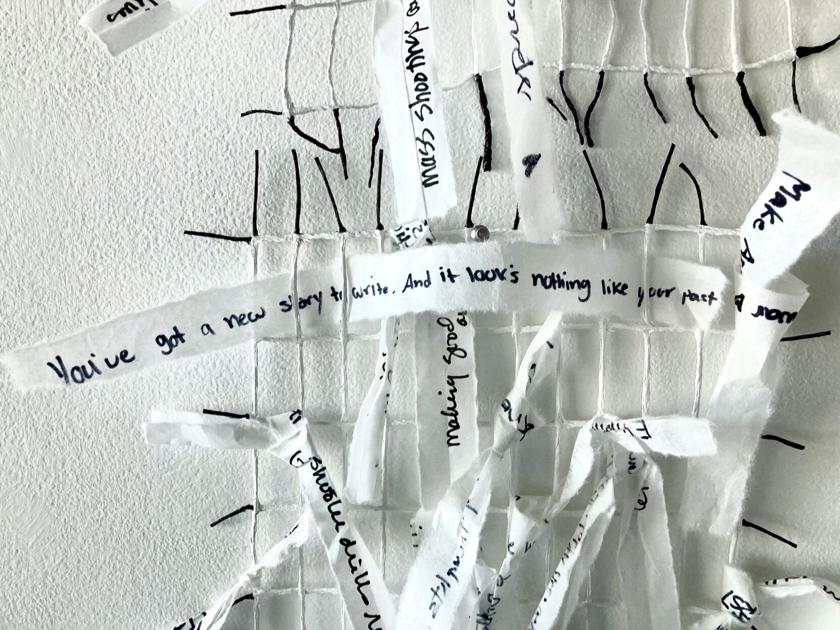 Conclusion: 2 exhibitions take an equal look at loaded issues | Chroniclers
From "Guernica" by Pablo Picasso, which denounces the savagery of war, to the provocative works of anonymous feminists Guerrilla Girls, art has long been a canvas of activism, an eye-catching and gripping agent of change.
Recently, slave potter David Drake of Edgefield has gained national fame, with works including those of protest cast from Caroline clay.
Art can arouse emotion, provoke thought and provide a sounding board for meaningful exchange. Sometimes it's just more comfortable for people to react to what they see on a canvas or read in a poem than to throw the ideological gauntlet face to face.
Given today's seemingly insurmountable divide, it's no wonder that artists grapple with loaded subjects. Even more amazingly, with all the excitement and acrimony surrounding issues such as gun control and development, two Charleston shows both entered the breech in a way that created ample space. for thought, reason and compassion.
I was able to attend "Visual Vigil", an exhibition by artist Susan Perkins. Designed as "an active conversation about the effects of mass shootings," the installation will conclude at the City Gallery on August 15.
Scraps of paper taped to the top corners covered the white gallery walls, sometimes swaying gently with a subtle change in the air, ethereal and haunting. At the bottom of each sheet was the name of a town in which a mass shooting had taken place.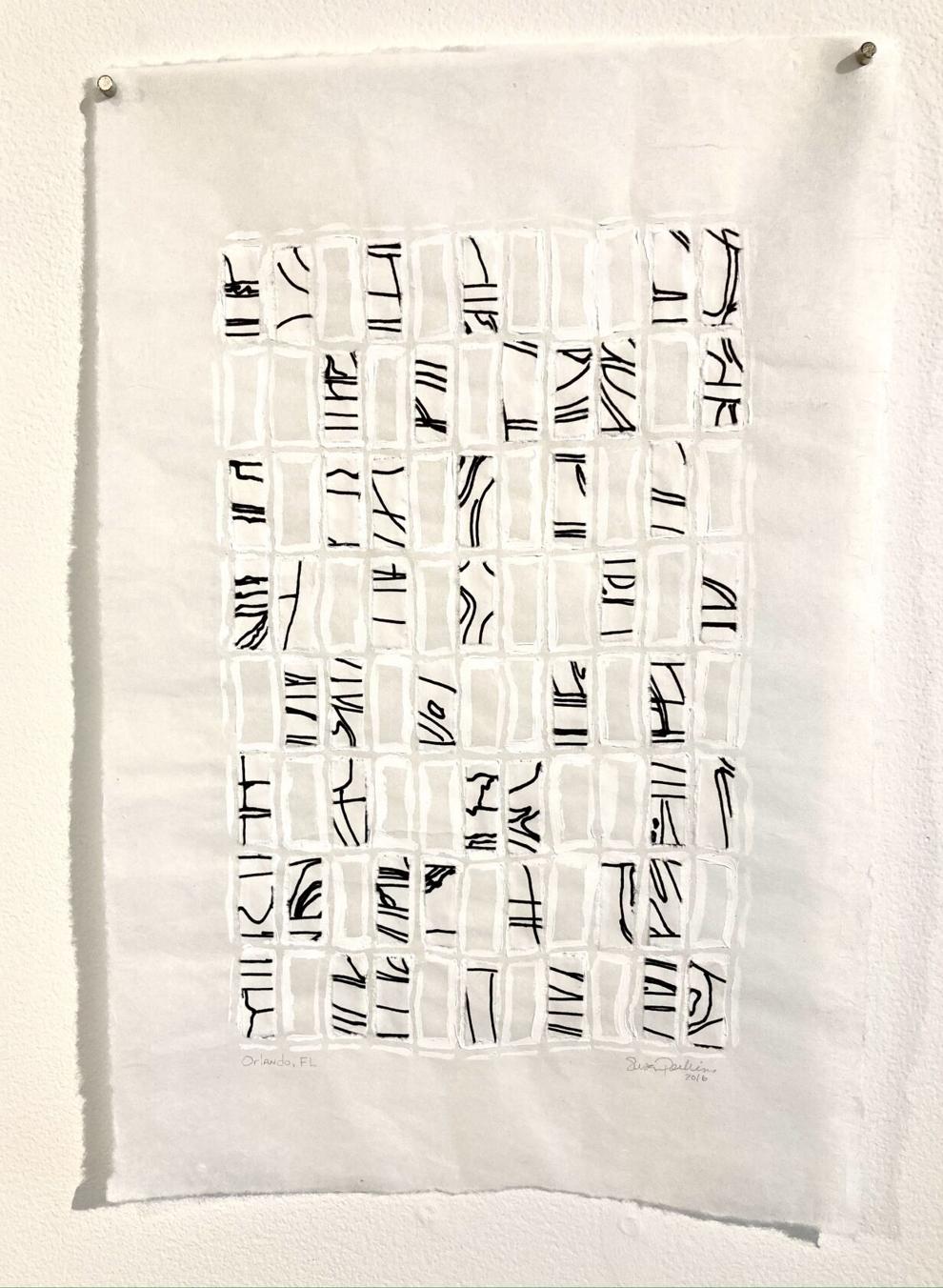 Each sheet was covered with grids of painted white boxes, some containing fragments of kozo paper with calligraphy-type meditation marks in sumi ink. They covered every available gallery wall, like an endless empty graveyard.
These flowing black lines marked the lives lost in a mass shooting from 1903 to the present day, fleeting elegiac moments of humanity now fixed in time and space.
After taking a few, I began to anticipate the city of the work represented by the amount of ink spilled in these silent boxes: Orlando, Las Vegas, Charleston. And, while they varied in number from work to work, each was given equal space by Perkins.
Towering over the central gallery wall, "Bedes for Gun Violence" draped a woven netting of rolled paper containing more of the artist's meditation marks. On the opposite wall, "Conversations for Change" offered a place of exchange in the form of strips of paper, pens and acrylic boxes that invited visitors to share messages. Among them were "Weapons love to travel / Need a vehicle / you!" and "You have a new story to write. And it's nothing like your past."
Beyond the gallery, a summer Waterfront Park has become an unexpected component of the work. Intended for gathering, the public square could, like any other in America, make its way to the gallery wall.
But the quiet and enduring power of the show was in its restraint of such proclamations, its invitation to reflect on every event, its offer of a moment to respect every lost life. With the exception of a few Brady Bill documents placed neatly, discreetly on the gallery desk, the artist peacefully and delightfully honored his intention to provide a space to create an exchange.
Certainly, I expected a different approach from "Tidal Futures: Friends of Gadsden Creek", on display at the Redux Contemporary Art Center until September 11th.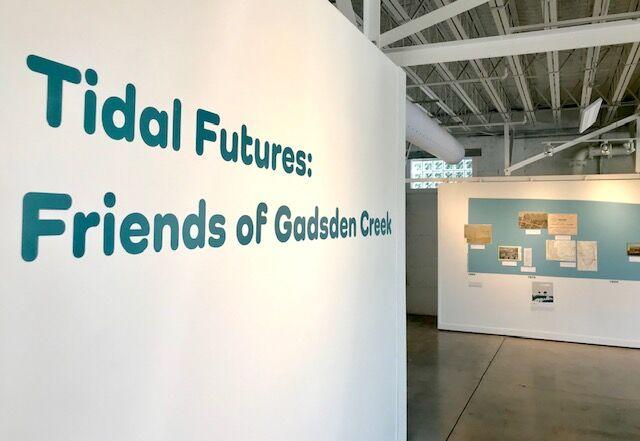 In the inaugural outreach exhibit for its new outreach program, Redux invited the Friends of Gadsden Creek, the local community-led campaign to save wetlands from WestEdge Development's current plans to fill them.
As at City Gallery, the aim was to promote dialogue. Redux pointed out the intersection of creative practice and cultural impact, with a focus on social justice as it unfolds in the Charleston community.
To do so, "Tidal Futures: a photograph, installation, video featuring community stakeholders and a timeline of key events impacting the land and life around Gadsden Creek."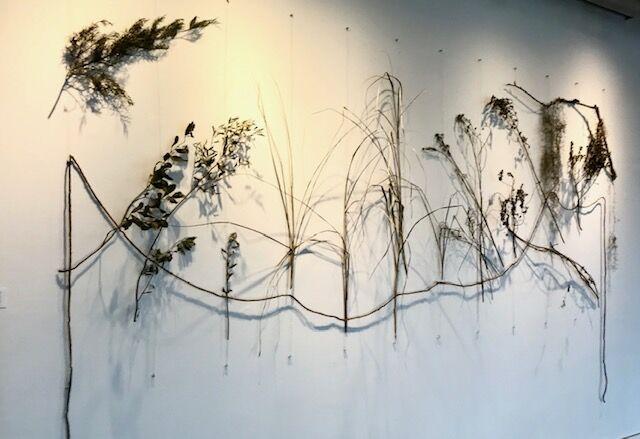 When I anticipated a divergent approach it was sort of because of some of its key activists who make no effort to speak the truth in power in the Charleston area, especially when it comes to those areas. wet.
In short, I expected invectives. It's not a slam. Calls to action are fueled by unvarnished noise-making and disturbing truths. To address the history of structural racism and urban development which, according to the group, "threatens to leave our most vulnerable citizens under water and without access to dignity", frankness and passion are at the rendezvous.
Instead, "Tidal Futures" delivered something more in line with Perkins' modus operandi, a measured, methodical approach to engaging others in their mission. With level grace and rigorous research, the exhibit offered the lay of the land, both literally and otherwise. And, while the expected tenor has obvious merits in activism, that of curatorial tactics has given rise to reflection.
It begins with a visual study of the creek from 2015 to 2020 using five archival pigment prints by photographer Jared Bramblett. They capture the fill area, revealing the tidal stream that regenerates during high tide flooding, a bird's eye view of the stream and community, natural flow paths through nearby marshes.
From there, an installation mounted on the gallery wall connects to an iNaturalist BioBlitz project documenting the plant life, animals and other life forms dependent on Gadsden Creek, with living branches as well as a QR code to engage. via a smartphone. In a spirit of exchange and information gathering, a Tidal Futures oral history booth then welcomes visitors to share their own stories.
On the back wall, a timeline along a calming blue stripe of wall runs steadily from 1850 to the present day, telling facts through a series of documents, which were curated by Amron Lee, Seb Choe , Brian Walter, Rebecca Fanning, Mika Gadsden, Cyrus Buffum and Taylor Schenker.
The first maps identify the adjoining land as once the property of slave auctioneer Thomas H. Gadsden. An 1872 Charleston News article reports how the chief of police responded to complaints of "bathing boys" by designating three areas of the peninsula, including Gadsden Creek, as key places of black cultural life.
A 1940 appeal from the owners of Gadsden Green to Charleston Mayor Henry Lockwood was in response to a threat that the neighborhood would be considered a "slum" and that the properties would be taken away from them. There are photos from the Cannon Street YMCA YMCA Intermediate Baseball game. Over the years, the timeline continues to chronicle the surge into landfills, leading to the present.
A video with commentary shares the thoughtful views of the defenders, without any scum raised. A resource table stacks carefully compiled texts and notebooks.
On the basis of this exceptional exhibition, which is based on facts and photos, flora and fauna, as well as community partners like Redux, the group has many means to guide the uninitiated in the space of the gallery and elsewhere on a clear, comprehensive and convincing journey of how deep a tidal stream can go.
Additionally, "Tidal Futures" and "Visual Vigil" both encourage people to believe that a meaningful exchange with enough room for bridge building is possible in Charleston and beyond. Maybe we're not at the top of a stream after all.