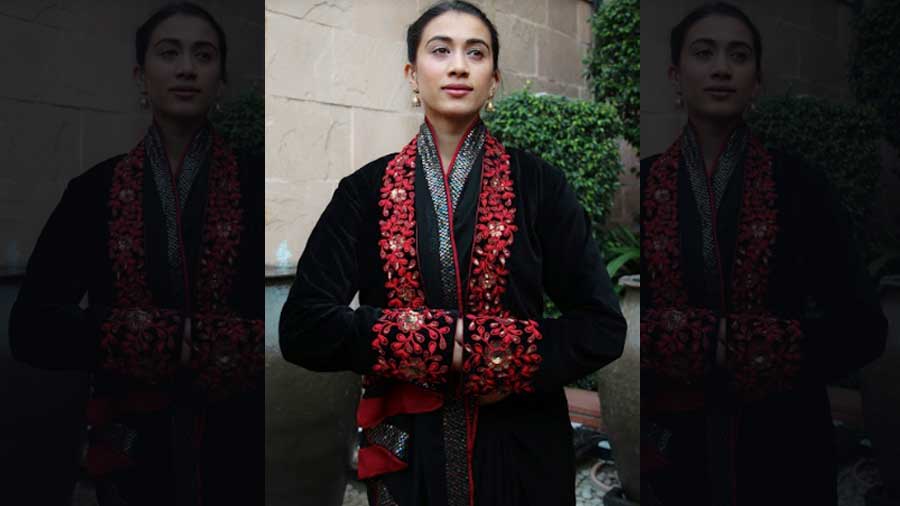 Boutique exhibition of the fall 2021 collection by fashion designer Sonam Dubal for Durga Puja at CIMA Art in Life
Fashion is synonymous with art. Sonam Dubal's fall 2021 collection, Mapping of memories, is the epitome of this statement! Its desi-chic the embroidered line is artistic, aesthetic and accessible, the perfect outfit for the Puja festivities.
Dubal's fall 2021 collection showcases its signature style through its branded elements – jackets and coats – embracing comfort, functionality, creativity and style. "The collection is made up of different types of textiles and weaves, woven and embroidered by hand. It's a collection of original pieces designed exclusively for the upcoming fall and winter seasons and of course, the holiday season, "Dubal said. The jackets and coats are available in three sizes: short, mid-length and long.
The hero of the Dubal collection is its unique embroidery. The embroidery used is vintage, such as velvet, khadi and eri silk, setting each piece apart. "There is a festive touch in the embroidery with mirrors, colors and calligraphy work. The embroidery is based on the heritage of the Silk Road which takes the collection to a much more intellectual and interesting space. It's a very modern interpretation of a classic look, a sensitive fusion of East and West, "smiles Dubal.
"Sonam's embroidery is a testament to the art of fashion and the artistry of our weavers. It is a representation of the magic that comes to life when imagination and talent meet fabric. His jackets are reminiscent of the Maharajas of India, the Taj Mahal and the beautiful old palaces of Jaipur. There is a sense of timelessness and history in her collection, "said Pratiti Basu Sarkar of the CIMA gallery, who has worn Dubal's jackets on several occasions.
Black velvet jacket with silver dragon embroidery lined with inset Ikat silk
The inspiration behind the line was the return of the holiday season in 2021, reflecting the mirth and joy that Puja brings. "This line is filled with very special pieces, I created a little essence of a heritage. The line embraces the idea of ​​bringing out your great-grandmother's heirlooms, jewelry and saris, to wear on the special occasion that is Durga Puja, "Dubal explained.
A lasting story is created with every piece. "Sustainable development has always been part of my collection because I use a lot of recycled textiles. The idea is to recycle, preserve and protect. We rework a lot of textiles and this gives each piece an edge, it's almost antique-y. "Dubal said.
An interesting aspect of the collection of jackets is that they are first and foremost accessories. Jackets add glam, excitement, and glitter to a basic OOTD and at the same time can soften a tumultuous outfit, creating the right balance. "Today's fashion is based on singular and individual choices. The idea is to create an opportunity for the individual to create a glamorous and unique look. You can combine it with sarees, Western clothing as well as Indo-Western clothing, "Dubal said.
Khadi mirror jacket
Dubal addresses the real woman. Women of different ages, lineages and morphologies wear his jackets. "Someone younger can wear them with a dress. Someone a little older could pair it with a wrap skirt or an evening dress and, of course, some Indian clothing, "Dubal said.
"I did two seasons at the CIMA gallery in 2013/2014 which were very successful. I had shown pieces that were part of my Caravan line, a line with a lot of Dori work, old quilts, patterns, patterns and block prints. I love working with CIMA and I particularly like the ethics with which they believe in what they do. So I'm very excited to show it off this time, "the designer smiled.
Memory mapping by Sonam Dubal is exhibited at the CIMA gallery, as part of the annual Art in Life exhibition, from 11 a.m. to 8 p.m. daily (including Sundays) until October 11.