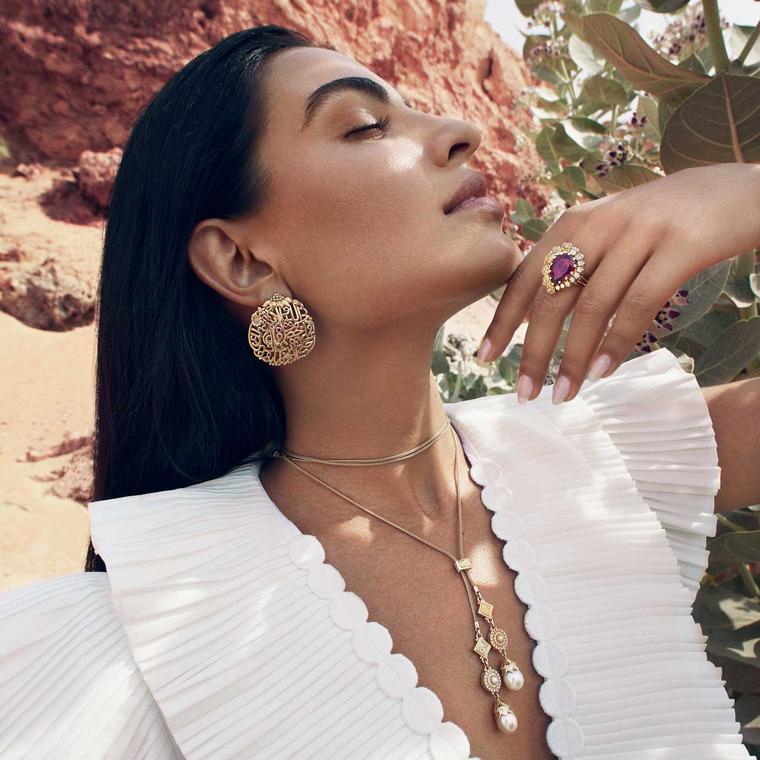 Azza Fahmy Wonders of nature: reinvented
Azza Fahmy Jewelery, the Egyptian house associated with luxurious and handcrafted jewellery, launches Wonders of Nature: Reimagined. The beautifully crafted new jewelry is clearly in-house style. They are rich in exotic and historical cultural references ranging from Egyptian peasant styles to Ottoman, Cleopatra and Arabic calligraphy. They feature ancient goldsmithing techniques such as filigree and hand-twisted gold coils, opulent gemstones, and flowing scripts. But there is a subtle change in this collection, a reinvention of the spirit of the brand.
Head of Design, Amina Ghali, daughter of Founder Azza Fahmy, says: "During the lockdown, creativity flowed, we had time to take a closer look at nature and pause and question the broader meaning of life. As we were separated from our loved ones, more of us sought to connect in deeper ways. The words that came to mind were love and peace, I know it's borderline cliché but it was right for the times. I expressed this mood in Wonders of Nature: reimagined and designed jewelry that connects on different levels and brings joy to the wearer."
The result is an overhaul of the house's patterns with a bright new eye and a touch of lightness, but never skimping on opulent color combinations and the use of larger, color-saturated gemstones. And indeed a quiet revolution has taken place in the workshops of Cairo. "It's a new path for us and a leap forward," explains Amina Ghali. "We work in a more technically sophisticated way to achieve more layers, more detail, without losing the handcrafted feel of each piece. We use technologies such as 3D printing to model the jewelry and show us how far we we can go in terms of sophistication and focus on every component of our jewelry.From the intricate tiered Beaded Spring necklace to the filigree and stone settings on every ring and earring, every aspect is more refined. have done by training in our workshops and looking at jewelry from a different point of view.
As Azza Fahmy's backstage progresses, so do the designs, but still in house style, so it's no surprise that the eternal snake dominates part of the collection. Amina Ghali explains: "Snakes keep coming back to me. They have been part of our heritage for thousands of years, and in particular for 200 years. The snake was worshiped as a god in ancient Egypt and powerful women from Cleopatra to Queen Victoria with her snake engagement ring are associated with this animal. Snakes are a symbol of rebirth as they shed their skin to reveal a new self. I think this idea is so relevant now that we are starting over after the turmoil of the past few years.
The classic Snake Hoops with sparkling sapphire eyes have been scaled down to a more delicate and wearable size, while still exuding the appeal of the original Egyptian peasant jewelry on which they are based. At the other end of the scale, a one-of-a-kind Cabochon Snake necklace sparkles with brilliant tourmaline cabochons in imperial shades of mauve, red and green. The snake's head doubles as a clasp: gently push the ruby ​​onto its head and the snake's mouth releases the attachment hook. The stones are in Turkish settings which sit low around the stone allowing the full beauty of each gem to catch the light. The bottom of each bezel connects to the next, creating an invisible, highly movable link between each giving the necklace its slinky feel.
Always mindful of how women wear jewelry, the Wrap Around Snake Ring is small enough to be worn as a signet ring on a baby finger or stacked. Despite its small size in addition to the symbolism of the Serpent itself, its head is adorned with an eye to ward off evil spirits. Attention to detail is everywhere and the ring is made from gold wire wound in the traditional way.
Stars and crescents are the second general theme of Wonders of Nature: Reimagined. Egypt was part of the Ottoman Empire for around 300 years and the star and crescents found in medals awarded to officials of the Ottoman Empire inspire this jewelry. Multi-Charm earrings dance with the movement of diamond-set stars and crescents suspended from an eye motif with an emerald in each pupil. The Ottoman Star earrings are royal but light and easy to wear thanks to their openwork frame. Filigree details and the sparkle of sapphires, pearls and diamonds add a very feminine touch to these medal-inspired earrings. Likewise, the Star Drop earrings transform the shape of a medal into luxurious and colorful jewels animated by the movement of asymmetrical briolette drops.
The Enchantment Ottoman bracelet was designed by Azza Fahmy after seeing an Islamic bracelet in the Museum of Islamic Art in Cairo. It features four large emeralds and captures the majesty and femininity of the original.
A third section features three handcrafted masterpieces, each loaded with symbolism and designed by Azza Fahmy. The calligraphy earrings, based on Azza Fahmy's Arabic script during her calligraphy lessons, are made up of a swirl of golden letters that spell out the words of a love song by famous Egyptian singer Abdel Halim Hafz.
The Beaded Spring necklace offers layers of delicate flowers in gold and silver, each petal rich in detail and texture. This precious bouquet hangs from strings of pearls evoking the splendor of nature. The Art Deco Multi-Way Necklace can be worn four different ways and features South Sea pearls and two gold capped teardrop pearls. The word "happiness" in Arabic script is written on the gold clasp on the front of the necklace.
Amina Ghali distills the essence of the charming Wonders of Nature: Reimagined collection which combines tradition and modernity: "We start from the idea that women want practicality and refinement. It feels like handcrafted jewelry will be heavy and uncomfortable, but we've managed to make jewelry that's light, flowy, and easy to wear all day. This is the way to go.
The Beaded Spring necklace showcases the number of gold working techniques the Egyptian jeweler is able to produce in this piece with many components arranged at different heights and gemstones set on strings of beads. Azza Fahmy Jewelry Wonders of nature: reinvented

These limited edition calligraphies are an exact replica of Azza Fahmy's own handwriting and the Arabic script spells out a phrase from a famous Egyptian love song. Azza Fahmy Jewelry Wonders of nature: reinvented

Inspired by Ottoman medals awarded to civil servants, Star earrings are very feminine thanks to the soft colors of pearls, diamonds and sapphires. Azza Fahmy Jewelry Wonders of nature: reinvented

Large tourmaline cabochons add opulence to the Cabochon Snake necklace which is also accented with diamonds and rubies in this one-of-a-kind piece. Azza Fahmy Jewelry Wonders of nature: reinvented

An ancient Islamic bracelet inspired the Enchantment Ottoman bracelet during one of Azza Fahmy's many visits to museums. This version is set with four dazzling green emeralds. Wonders of Nature: Reimagined

The Ottoman references of crescent moons and stars as well as the motif of the protective eye add an exotic air to these gold, diamond and emerald earrings. Wonders of Nature:Reimagined Azza Fahmy Jewelery Multi-Charm Earrings

Taking the shape of the star in a new design, the Star Drop earrings have pearl drops that dance with every movement. They are also available in amethyst. Azza Fahmy Jewelry Wonders of nature: reinvented

Azza Fahmy's jewelry has different designs ranging from Arabic calligraphy in the earrings to Art Deco style in the necklace and floral details around the ring, but they all work together. Azza Fahmy Jewelry Wonders of nature: reinvented

Large tourmaline cabochons add opulence to the Cabochon Snake necklace which is also accented with diamonds and rubies in this one-of-a-kind piece. Azza Fahmy Jewelry Wonders of nature: reinvented

Enchantment Ottoman bracelet and Emerald Blossom ring on the model. Azza Fahmy Jewelry Wonders of nature: reinvented

The Emerald Blossom ring is an example of how this city of Cairo embellishes even the most precious gemstones with intricate details that blossom around the emerald. Azza Fahmy Jewelry Wonders of nature: reinvented

The Beaded Spring necklace in gold and silver combines floral motifs with pearls and cabochon gemstones. Azza Fahmy Jewelry Wonders of nature: reinvented