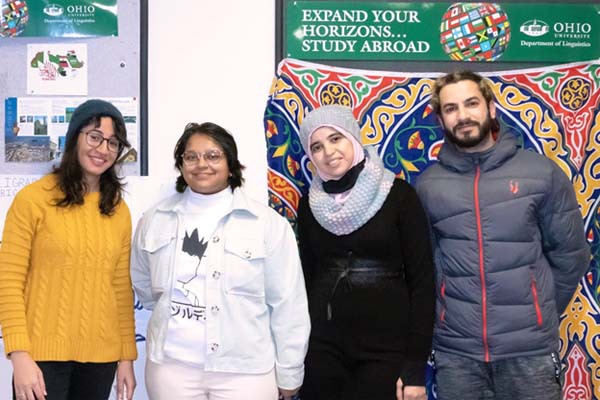 A senior learns about the Middle East and North Africa in a team-taught Arabic course
From left to right, Sara Abdelrahman, Mrin Dasgupta, Nour Maache and Oussema Dhieb
When Mrin Dasgupta, a senior at Ohio University, signed up for a 3000-level Arabic course, she didn't expect it to fit so well with her curriculum and needs. future career goals.
The team-taught class gave her insight into Middle Eastern and North African (MENA) language and culture from three different instructors, each from a different country.
"I am interested in continuing my studies in the MENA region, and I hope to have a career in this region in relation to international politics, whether it is diplomacy, NGO work or research," said Dasgupta, who is majoring in Global Studies: War and Peace at the Center for International Studies and Political Science in the College of Arts and Sciences.
"I never really learned about the Levant region, so having three teachers from the North Africa region was a welcome change and gave me a more comprehensive perspective on the MENA region, and that was particularly important because of my future work plans," she added. "I really loved that the focus was not only on Arabic, but also on the cultural aspects. I would highly recommend this course to other students learning Arabic."
Perspectives from Egypt, Algeria and Tunisia
Dasgupta faculty members for ARAB 3990 special studies were Sara Abdelrahman from Egypt, Nour Maache from Algeria, and Oussema Dhieb from Tunisia. All three are currently earning graduate degrees in linguistics.
"Arabic instructors generally teach classes at the elementary and intermediate level, but every now and then there is a demand for a 3000-level class. Whenever this is the case, students enroll in studies ARAB 3990/5990 specials and instructors teach as a team. In addition to their regular teaching load. Students at this level typically have varying skills and needs, so instructors work together to customize a program to suit individual needs. of their students," said David Bell, Ph.D., associate professor and chair of linguistics and director of the Arabic language program at the College of Arts and Sciences.
Since specialist studies courses often have fewer than five students enrolled, they have no formal assessment procedure. So Dasgupta reached out to tell Bell, "I really enjoyed it. I thought the class was amazing due to the level of care and attention I received.
The instructors planned the class by first asking Dasgupta to complete a survey about her perceived strengths and weaknesses and the language skills she wanted to focus on. After that, they all met her individually.
"For me," Maache said, "interviewing Mrin gave me deep insight that ultimately helped me design a program that met his needs and expectations. It also gave me a clear idea of ​​the materials and activities she needed to achieve her goals for the course. She was surprised to find a large selection of Arabic textbooks in Alden's library, which greatly helped her in planning.
The instructors decided to divide up the teaching by each spending a month with Mrin. Since they were three teachers teaching one student, collaboration and sharing of information was very important. During their weekly online regular Arabic teacher program meetings, they discussed Mrin's progress and agreed on which language areas they should focus on. And they also adapted the syllabus according to the needs that emerged during the course.
For Dhieb, this type of team teaching was completely new. "In my previous teaching experience, I had never collaborated with colleagues in this way. A class is usually assigned to a single teacher, so this was an exceptional case where three teachers contributed equally to the same course," he said.
In addition to regular class meetings, the instructors organized cultural events that Dasgupta liked to attend. She came at Arabic coffee time to practice her speaking skills with other Arabic language students. During one of those coffee hours, Abdelrahman gave her some bamboo pens and ink so she could practice her Arabic calligraphy. She came to a Tunisian horror movie night and met others from outside the program. Dasgupta also had a henna tattoo.
"During my time with Mrin," Dhieb noted, "I was able to share more about my culture than I usually do in my classes. , and we both enjoyed snacking on one of my favorite Tunisian desserts!
In his lessons with Dasgupta, Maache realized that they both shared the same passion for learning about different cultures. "I really enjoyed our friendly conversations about culture, school life and Mrin's trip to Jordan. I miss these kinds of conversations in regular classrooms where students don't get a chance to talk more about themselves. »
Maach commented, "Being a student helped me understand all the pressure that students have at the end of the semester, especially those who have a job, which was the case with Mrin. For this reason, I told her that this course was for her to learn Arabic while having fun.
What did the instructors of the team teaching the Arabic course think?
"At first, remembers Dhieb, I was worried that the course would be overwhelming for Mrin. But, all my worries went away, however, as soon as I spoke with Mrin, and saw his tremendous receptive ability which complemented his curiosity for all things Arabic.
Abdelrahman noted, "On Mrin's side, she worked with three different instructors from three different countries in the Middle East. For me, working as a team to achieve a common goal has been very rewarding. I didn't feel that this course was like three different unrelated modules. Rather, it was as if each of us was doing the other's job.
Abdelrahman was grateful for the opportunity to work as a team. She said the key to learning and retaining the language is reading and dictation. "Mrin and I have worked so hard together to tell the difference between short vowels and long vowels when dictating. I believe that dictating and being fluent in reading correctly will therefore help with listening comprehension.
"I learned that there is always a way to make things work even when you have three teachers to teach one student," Maache noted.
Dhieb agreed, "I learned that more than one teacher can teach a single language class, and that can help keep things fresh and interesting for students throughout the semester. And I learned once again that learning the culture is an essential part of any language learning journey. I have seen how cultural activities liven up language lessons, break their traditional monotony and increase their success rate. Additionally, it is beneficial for learners to have more than one reference and one perspective of the language and culture.
For more information on the Arabic program, contact Program Coordinator Abdelrahman at [email protected] or Bell at [email protected]