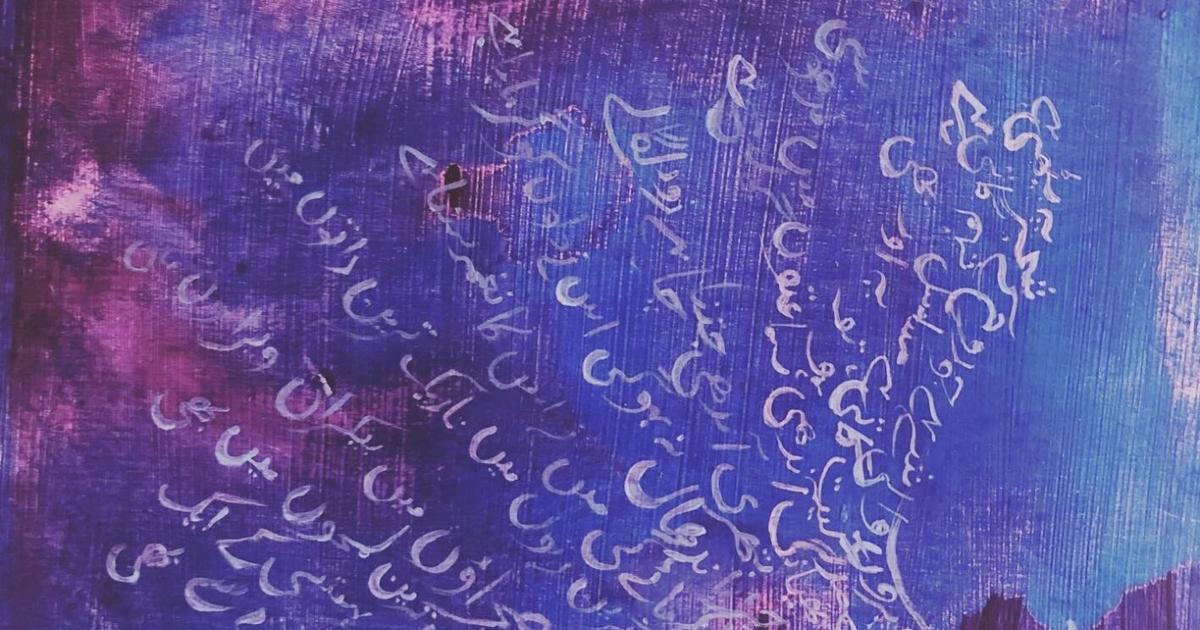 A Different Rockwell: Painter and Translator Daisy Rockwell Charts Her Own Path | arts and culture
MANCHESTER — Dhwani is a Hindu word that is apparently difficult to translate into English. But Daisy Rockwell does not hesitate to launch: "Dhwani is an echo, a vibration, a resonance. This is alliteration and assonance. Dhwani can be deliberate and playful, as in doublesense and pun, an accidental hodgepodge of sameness or mystical reverberation.
These words are taken from his translator's notes found on the back of the Indian English edition of "Tomb of Sand", a novel written in Hindi by Geetanjali Shree which Rockwell translated. The work has just won the International Booker Prize, with the author and translator sharing the spotlight and $50,000 (English pounds) in prize money.
In his notes, Rockwell discusses dhwani in the context of the book, but it can be found elsewhere, such as Rockwell's work, which is now on display at the Manchester Community Library until September 17.
The title of the show? "Dhwani / Resonance."
"I felt these works were all, you know, different dhwanis from my environment during that time," said Rockwell, a South Asian artist, translator, writer and scholar living in North Bennington.
The paintings reflect the life she lived during the COVID-19 pandemic, when work on rebuilding her artist's studio was suddenly halted and she found herself working in the guest bedroom of his house.
"I didn't have a lot of space," she recalls. "I did all these tiny little paintings that are abstract. I had this daily routine of doing something. Everything was inspired by something I was obsessed with in the news, like what we're learning about the virus and its transmission. Part of the abstraction is looking at all these graphs and, like, pictures of the actual virus, you know, under a microscope. … In my head, there were all these abstractions, so that's what I did and I posted them on Instagram right away. … It gives you a sense of community when you can't see anyone.
Rockwell told the library she had 30 to 40 pieces to show, but discovered the number was more like 60 to 70.
"It's really good for me to have this show," she said with a chuckle. "Work is everywhere in the house. The real reason you want to sell is to get it out of the house, so you can keep working. You can't keep working if you can't put it anywhere.
The paintings are mostly acrylic on wood and feature layers of color and intricate patterns often rendered in vivid colors. His response to the pandemic is just one theme of the paintings. Rockwell also focused on calligraphy and translation. A number of these works feature calligraphy in Urdu or Hindi – a longtime passion of hers – which are themselves translations of works written in English.
In "Hope/asha", she takes an Urdu translation by Aftab Ahmad of an Emily Dickinson poem and arranges the calligraphy in the shape of a bird. Sylvia Plath and her children are featured alongside Plath's poem, "Edge", also translated into Urdu by Ahmad.
Rockwell's exhibition is the first in several years at The Gallery at Manchester Community Library. Paige Vignola, assistant director of the library, said a friend recommended Rockwell to her.
"I was overwhelmed," Vignola said. "His work touched a part of me. You had to see it. »
The concept of 'dhwani' or resonance is at work in Rockwell's life, career and art. It was perhaps best captured in one of the larger pieces, "Tomb of Sand". On a shimmering background of soft gold and peach, surrounded by the shapes of stylized butterflies, sits an elderly woman. His eyes are alert. There is a slight smile on his face. She is holding a cane, but we wonder if she really needs to use it as she looks alive. This painting is the cover of the Indian English edition of "Tomb of Sand". The woman is the main character of the book and the design is based on a scene from the third section of the book. Rockwell created the character to resemble Krishna Sobti, the late Indian Hindu-speaking author. Rockwell had translated Sobti's book, "A Gujarat Here, a Gujarat There" in 2019. Shree dedicated "Tomb of Sand" to Sobti.
Rockwell said most translators work on books they have an affinity for. This was the case with "Tomb of Sand".
"The author and I share a certain sensibility," Rockwell said, noting that the pair had never met in person until they both came to London this spring for the International Booker Prize. The two women corresponded about the book and translations in hundreds of emails.
"She went through it all. Some of them she liked, some of them she didn't understand what I was doing, and some of them she didn't like. We had to negotiate," Rockwell recalled. we met, we felt we knew each other."
Rockwell signs his work under a pen name, using an Urdu word, "lapata", which can be defined as "disappeared" or "location unknown" or "on the run". She chose it when a friend asked her to contribute to his blog, which had a South Asian theme. The use of a pseudonym is traditional in Urdu poetry, she said, but it also reflected her withdrawal from academia – she had been vice-president of the Institute of South Asian Studies at the University of California at Berkeley.
"I didn't want to do anything public," she said. "I just wanted to disappear from everything and regroup, and decide what I wanted to do with my life. I left without a plan in mind. … Suddenly I disappeared. Some people think I should change it, because I haven't disappeared anymore. But I like the way it looks."
Certainly, Rockwell is no longer missing. The fanfare of the International Booker Prize means the novel, and its translation by Rockwell, is set to be published in the United States in January 2023. It could also be argued that Rockwell could never really go away. She is, after all, the granddaughter of Norman Rockwell, whose iconic paintings have become for many a symbol of American life and American values.
"The Indians and the British are not interested in this subject, but the Americans always bring up my grandfather and ask about it," she said. "For some reason it feels like studying Indian languages ​​or being interested in South Asia is at odds or totally opposite to my grandfather and his work. To which I say, but he actually painted Nehru's portrait. He went to India. He incorporated a Hindi word in the background.
"Of course, he's like the ultimate creator of American imagery, but that doesn't mean he was a parochial person," she added, noting that her grandfather was very cultured, even though he never finished high school. His three wives, she added, were schoolteachers and his grandmother read Tolstoy's "War and Peace" aloud to him in its entirety – twice – while he painted.
"His paintings are thankfully based on storytelling," said Rockwell, who was 9 when his grandfather died.
"I don't claim my paintings or even wish my paintings to be considered similar or anything like that. There is a [strand] through the family of love storytelling and love literature and understanding its connection to visual media.
What does Rockwell hope viewers get out of this exhibit?
"Well, I wouldn't want to impose any sentiment on them, but I guess I would like people to appreciate the artwork," she replied. "I take whatever pops into my head for a few years and stick it on the walls, so I guess I'll see how people react. I have no particular expectations. »
The exhibition is free and open to the public. For more information, visit the library's website, mclvt.org. The Manchester Community Library is located at 138 Cemetery Ave.