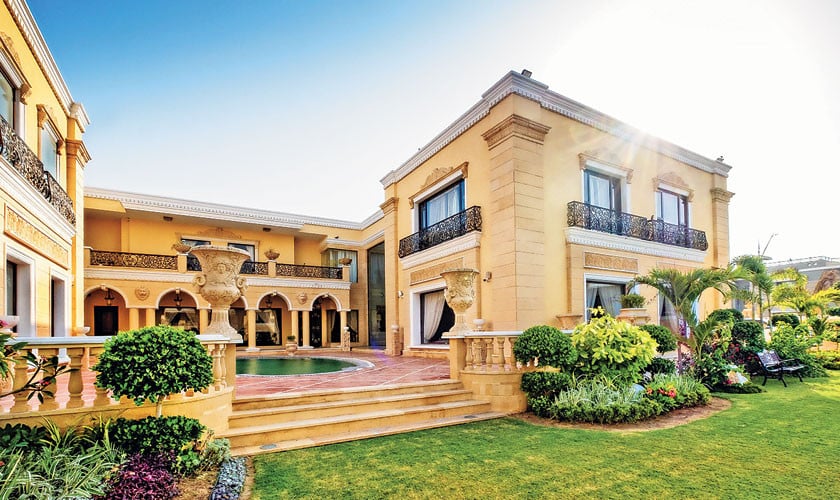 Iinterior
When one enters Naureen and Mirza Ikhtiar Baig's house, "space" is the word that comes to mind. As you enter through the main entrance, you can see through the mural installed on the exterior perimeter wall with full-size glass partitions. Incredibly beautiful, the house certainly has the "wow" factor. In fact, it is safe to say that it is one of a kind, designed especially for the needs of its owners. The house has spacious parking, a large lawn and spacious bedrooms. The luxurious exterior, with its elaborate balcony, manicured garden and contemporary seating area, is a fabulous testament to a couple's refined taste in decorating.
The house was designed and built on Victorian and classical architecture from the mid to late 19th century by famous architect Ali Shamim Naqvi. The ground floor and first floor have been designed in a classic Victorian theme, while the basement is a mix of Victorian and modern styles, strictly following the architectural theme. The basement includes an eclectic design and decorative elements, while being consistent with the Victorian style.
"As my husband and I entertain a lot, we wanted a bigger house where we could receive our guests comfortably. We have been living in this house for two years. This house has enough space to meet our requirements. It is a two story house with 10 bedrooms, living room, dining room, cigar lounge, guest rooms, office, basement entertainment area with billiards (pool table), a theater, a gymnasium, television lounges with a common lounge area and three bathrooms. says Naureen Baig.
The home is decorated in a lavish palette of warm neutral colors in the bespoke seating and soft furnishings. Focusing on the environment, each room has an exterior entrance. "There were foreign and Pakistani interior designers involved in the process, however, the interior designer, Sabeen Shiraz, was the central person. The contributions of my daughter-in-law Iman and I were there and we used to attend presentations from interior designers before finalizing, "says Ikhtiar Baig who is a well-known businessman and consul general honorary from Yemen.
A combination of classic and traditional furniture and contemporary pieces furnish this home with style and elegance. Large, airy rooms are the perfect backdrop for oversized furniture – from the spacious living room with its contemporary sofas to the long dining table paired with modern chairs. The dining room also shows couples' flair for table style, which is brought out when they host dinners at home, decorating with quirky accessories or on a specific theme. "Our furniture was custom made by oldest and famous Victorian furniture designer Larry Hilfram, including upholstery and upholstery, as well as imported in consultation with interior designers," Baig informs. "Our 28-chair dining table with consoles is my favorite piece of furniture because the table is one piece, custom-made for our dining room. The dining chairs are adorned with an Italian silk upholstery embodying the classic tradition, "he adds.
The house is a treasure trove of artifacts that the couple have collected over the years from around the world. "I am a lover of sculptors, decorative pieces, rugs and old objects. So the collection of these items in my new home was acquired over a period of time. Since my house is primarily designed on Victorian and classical lines, my decorating style is also reflected in the paintings, furniture, moldings, stained glass, sculptures and other art objects and accessories, "says Baig.
Baig admits that even two years later, he still decorates, refines and adjusts interiors. "Designing my home is always a journey, however, and part of what I love is being able to take my time and select items that inspire me rather than buying things just to fill an empty space. My favorite room in the house is my study, beautifully crafted in wood with Italian leather furniture and a Victorian desk and a good collection of books, making it a really comfortable place to relax, "comments Baig.
What particularly stands out in this house is not only the variety of decors and the way they blend together so well, but also unique pieces. According to the couple, their home items must tell a story. "It is important that you can feel the personality of everyone who lives in the house. Our house reflects our lifestyle, "explains Naureen. The living room has a more formal atmosphere.
Painted in cool tones, the room has a real sense of space. Although the decor is rather flamboyant, there are a number of classic and antique pieces that make the home comfortable. Recently, the couple got new handmade Persian silk rugs from Isfahan, Tabriz and Kashan with beautiful patterns in pastel and gold colors, adding a regal look to the overall feel.
The house also has an extensive collection of exquisite paintings by famous artists including Raja Changez Khan, Jamil Naqsh, Sadequain, Gulgee, Iqbal Mehdi, Mashkoor, Shahid Rassam and Anwar Ali. "Right now, Raja Changez Khan is my favorite who came from Islamabad to repair my paintings. I love the abstract, the landscaping and the calligraphy. Paintings are more presentable if they are framed appropriately. I have a few paintings from Morocco, the wooden frame, made in Italy, matches the arches and patterns of the paintings, "says Baig.
So, while furnishing the house, did you make a decoration mistake and later regret it? "Yes," says Baig, "when I traveled abroad with Naureen and two interior designers to buy chandeliers, furniture, lighting, decorative pieces, I bought two sets of Italian chandeliers. for the bedrooms of my daughters Haya and Anum. But after installation, they didn't like the white light effect. Instead, they wanted to have a warm yellow light; the supplier refused to change it.
"As a diplomat, Naureen and I entertain our diplomatic and business guests guests every time they come to Karachi. Sometimes we organize indoors and sometimes in our garden. The most difficult thing in the house is to take care of the garden and the plants. We are not in the garden but keep a close liaison with the team of our gardeners to regularly plant seasonal flowers ", concludes Baig.
Photography by SRS