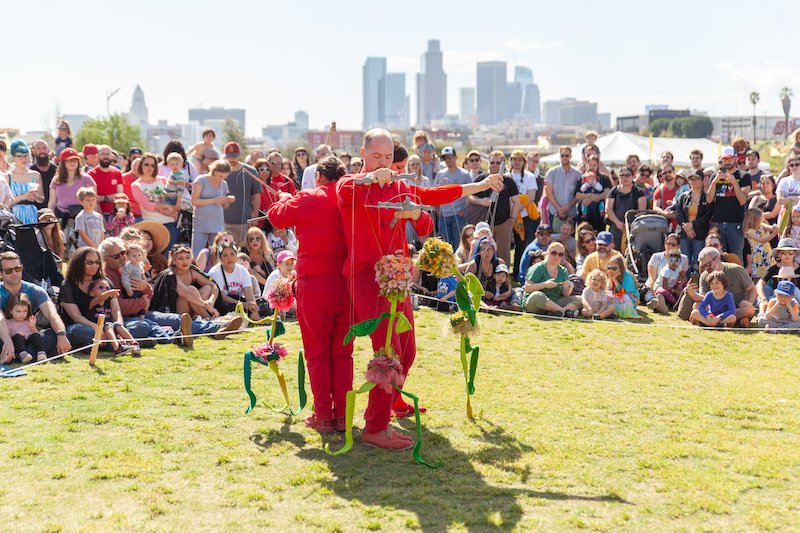 10 things to do this Saturday in Los Angeles [4-9-2022]
With the temperatures thankfully returning to normal today, we thought it was the perfect time to reintroduce our daily to-do lists (at least for the weekends!).
Below are our top three picks for this Saturday (April 9) in Los Angeles, followed by a bulleted list of seven other quick ideas to consider. Whatever you do, I hope you have a good one!
Things to do for Saturday
Bob Baker Day -> Head to LA State Historic Park (1315 N Spring St) starting at 10 a.m. for a free day of in-person puppetry and family fun. Explore a craft market, grab bites from food trucks, catch live performances, and (if they want) kids can take part in this year's talent show. More info here.
light up the night -> To celebrate the opening of the Taylor Yard pedestrian and bicycle bridge, the Elysian arts collective will host an evening of festivities including a mariachi, traditional Aztec blessing and a contemporary dance performance by MASH UP. After the activities adjacent to the bridge, an after-party will take place at Frogtown Brewery. The event starts at 6 p.m. Free attendance. More info here.
Radio Pyrite -> Starting at noon at the 18th Street Arts Center in Santa Monica, artist Peter Simensky performs a live audio set using handmade mobile radios constructed with coiled copper wire, spare parts and a pyrite stone. Simensky's intention Radio Pirate Pyrite is to convey ideas, experiences, collaborations, community commitments and interventions. Free to attend. More info here.
Seven more things to do in LA today
The Natural History Museum celebrates Earth Day today with special activities from 1 p.m. to 5 p.m.
The Renaissance Pleasure Faire returns to the Santa Fe Dam Recreation Area this weekend for the start of its spring run.
The LA Phil's Noon to Midnight is a 12-hour pop-up concert series that takes place in and around the main hall of the Walt Disney Concert Hall.
This weekend, the Getty Villa is hosting Family Festival: Persia, a two-day event featuring dance, storytelling, puppetry, calligraphy, crafts, and other interactive events.
Tonight at the Wallis, pianist Suzana Bartal joins the Calder Quartet for a lively program of string quartets and piano quintets.
The twice-a-year Open Weekend at the Brewery Art Complex (at DTLA) runs today and tomorrow.
The Acura Grand Prix of Long Beach will review DTLB over the next two days.
---
Do you read the We Like LA newsletter? Every Monday and Thursday, we send you the best things to do in Los Angeles straight to your inbox! register here
Advertisement